Leadership Douglas County discovers historic open space
November 1, 2010
/
/
Comments Off

on Leadership Douglas County discovers historic open space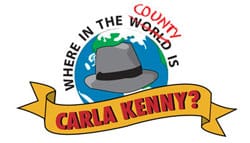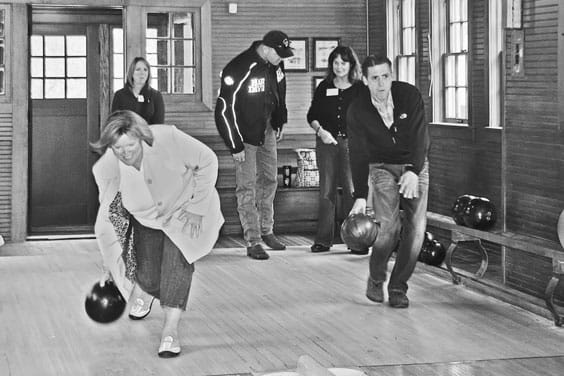 Come on strike! Carla Kenny (left) at the two-lane bowling alley in the historic Louviers Village Club House taking on Leadership Douglas County cohort Steve Labossiere (right).

by Patte Smith with photos by Michelle Holbrook
Blasting around the county and having a dynamite time is where Castle Pines resident Carla Kenny was on a beautiful fall day in October. Winding around, down, over and through Douglas County, Kenny viewed miles of meadows and thousands of acres of Douglas County open space. As part of the Leadership Douglas County program, Kenny traveled throughout the county learning about Douglas County open space. "This was our first outing and it was fantastic," exclaimed Kenny. She was joined by seventeen other members of the group, among them Steve Labossiere, a Castle Pines resident and president of the Castle Pines North Metropolitan District.
An "explosive town" was Kenny's first stop, where the group toured the historic town of Louviers. Previously known as Dupont, this town was a "company-owned town" that was established in 1906 when E.I. Du Pont & Nemours Company purchased the land for a dynamite factory. The company built cottages for workers and more upscale homes for plant managers, foremen, and a company doctor. The factory was named Louviers in honor of the owners' ancestral home region in France and began dynamite production in 1908.
The company sold the town in 1961 and many of the lots were purchased by individuals and families that lived in them while working at the factory. A main feature of the town was, and is, the Village Club House that was built in 1917. Back then it was used for dances, meetings, a movie house, and in the basement a gun club and billiard room.
The building was purchased by the county in 1975 and today is used for events and meetings, and it still has a two lane bowling alley that is manually operated. "We were lucky enough to get to bowl and were interested in how the staff manually sets up the pins and returns the balls down the alley to the bowlers…it was really fun," laughs Kenny. The upstairs is home to the Louviers Library. "I was truly amazed at the history of Louviers — it has quite a story."
Jumping on a bus, Kenny and the group traveled to Cherokee Ranch and Castle, a wildlife sanctuary and well-known historic ranch and castle where they hiked in the open space area. Tweet Williams sold the 3,100 acres to the Douglas County Foundation in 1996. It holds private events at the castle and the surrounding areas.
Prairie Canyon Ranch was Kenny's next stop. Settled in 1862 by German immigrants, the ranch is a scenic landscape of rolling grasslands, rocky canyons and ponderosa pine located next to Cherry Creek. "There is a family that lives at the ranch which they lease," explains Kenny. "It is incredibly beautiful and there are two steers there that are owned by the county, so you could say each of us owns part of a steer!"
As the day wore on, Kenny stopped at JA Ranch for a "behind the scenes tour" of the spread which was once owned by Texas landowners. "Governor Alexander Cameron Hunt, the fourth territorial governor of the Colorado Territory stayed at this ranch in the 1860s," explains Kenny. "He sent missives to President Grant from there and also received some back from the president — this is a little-known piece of information I learned that made the day so exciting."
Kenny journeyed by Pickle Gulch and Spruce Mountain Open Space and ended her long but worthwhile day at the Dawson's Butte Ranch. The ranch features five miles of picturesque trails for hiking, mountain biking, horseback riding, snowshoeing, and cross-country skiing. "We hiked on trails I didn't even know existed," explains Kenny.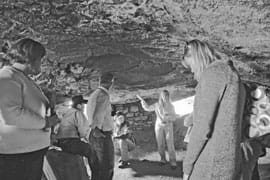 Kenny (far left) and some of the Leadership Douglas County team touring a cave where Dupont mined.
JA Ranch homestead where Territorial Governor Hunt stayed while corresponding with President Ulysses S. Grant.

"The entire day was incredible and I discovered so much about the open space areas in our county. It makes me want to jump on a bike or hike with my family in these wonderful spots. Many times people think that to enjoy the outdoors we have to go far, but I discovered we can enjoy so many awesome places right here. The places we went to were so interesting and beautiful."
Kenny encourages residents, friends and family to take advantage of the breathtaking open space areas of Douglas County. For more information on Douglas County open space areas, go to www.douglas.co.us/openspace or www.cherokeeranch.org.
Stay tuned for Kenny's next adventure in the county. As of now it is a secret —"that is one of the things that is so fun about being part of Leadership Douglas County — we don't know where we are going next until right before we embark on our excursion." Hmmmm, where next?
A few historic facts about Douglas County
Did you know that Louviers is on the National Register of Historic places and the entire town has been declared a Historic District?
Did you know that Governor Alexander Cameron Hunt stayed at the JA Ranch in Douglas County were he communicated with President Grant?
Did you know that the area in and around the Prairie Canyon Ranch was the winter camp for plains people for at least 10,000 years?
Did you know that rhyolite stone was discovered in the 1800s at Plum Creek and that this stone is equivalent in composition to granite? Some of the historic and older homes in Douglas County still have rhyolite stone in them.
If you know more interesting facts that you would like to share about Douglas County, please submit them to the e-mail.