Homeschooling, an alternative learning option
August 1, 2018
/
/
Comments Off

on Homeschooling, an alternative learning option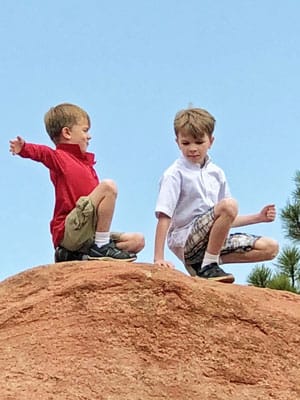 As part of their physical education, six-year-old Dominic (red shirt) and eight-year-old James Bogue enjoy climbing on rocks.
By Susan Helton; photo courtesy of Imelda Franklin Bogue
Home education has existed throughout history. Many well-known people were homeschooled, including John Quincy Adams, Louisa May Alcott, Venus and Serena Williams and Tim Tebow.
Douglas County School District (DCSD) supports home education, offering dual enrollment and home education enrichment options. The district homeschool liaison helps with questions about homeschooling, paperwork, testing and Colorado homeschooling law. With various educational opportunities available, and no "one-size-fits-all," homeschoolers might spend little time at home. Many homeschoolers belong to groups where members support each other with ideas, information, group classes and outings.
David and Imelda Bogue, with sons James and Dominic, recently moved to Castle Pines. They have homeschooled for four years. "Although we settled too close to the end of the school year to get in on the wonderful options for homeschoolers through the school system, I'm extremely excited about the amazingly supportive culture here!" stated Imelda.
The Bogues were inspired to homeschool by some homeschooling families that they had met. "There was a closeness to the family culture," stated Imelda. "A delight in learning, free inquiry without limits. Our parenting goal is to give our children as large a world as possible. I love the idea of the whole world as a classroom."
The family's academic year starts after Labor Day. Summer break this year began after James finished his third-grade standardized test. The family's school day typically starts with breakfast and chores. "And then…we're night owls, so we've been starting school after lunch, when they're at their brightest. We also do some more when the sun goes down," stated Imelda. "It works for us!"
Reading, writing and arithmetic are the formal lessons. The family explores other subjects through free reading – more than 200 books the past year – including biographies of great artists, world folktales, geography, world cuisine, history, natural science and music appreciation. And they learn about their faith. "I love seeing them able to talk about their faith whenever they want. We're always yakking about Bible stories and stuff like that," Imelda stated.
About homeschooling, James stated, "I love it! You don't have to do school for long." So he has more time to design functioning transformers out of random Lego parts. James adores robotics and wants to be an engineer and design robots when he grows up.
Dominic agrees about homeschooling. "I love it! Mama's a good teacher. I love learning how to read," he stated. Dominic is fascinated by Japan and Japanese folktales. He is learning to read so he can read a 1,000-page book on Japan that he got from the Castle Pines book swap. When he grows up, Dominic wants to be a karate teacher. "Well, actually, he wants to be a ninja," stated Imelda.
"Homeschooling expands my world too," stated Imelda. "This is the most intellectually engaged I've been since college. My favorite part is having a front seat to their intellectual development. Such a privilege."
To learn more about homeschooling in DCSD, visit dcsdk12.org/home-education-0. For information about Colorado homeschooling requirements, visit www.cde.state.co.us/choice/homeschool.