In search of a super salad
April 1, 2015
/
/
Comments Off

on In search of a super salad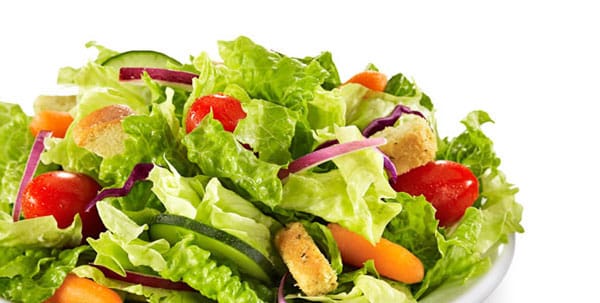 By Lisa Crockett

I love a good salad and I love control. It might not seem that these two qualities are in any way related, but in fact they make me the perfect customer for what seems to be a dying concept: the salad bar.
Sure, there are lots of great salads to be had just about anywhere you look. The Thai Kai salad at J. Alexander's rates as one of my favorite meals of all time. The Filet Mignon Cobb at White Chocolate Grill is simultaneously satisfying and light. The Via Baci Chop is my editor's top pick and a monthly, if not weekly, dine-in or to-go staple. When I'm in a rush, I love an old-school taco salad from the Wendy's drive through, soaked in chili and drowning in crumbled tortilla chips. But there's nothing quite like a salad bar, especially a well-stocked one, brimming with fresh choices.
After a heyday in the late 70s and well into the 80s, the salad bar seems to be in decline. Buffet restaurants often have a salad bar, but they tend to be overshadowed by other more flashy offerings like prime rib and all-you-can-eat dessert. Sweet Tomatoes in Lone Tree is one of the only remaining places in the metro area where I can "belly up to the bar" for the exact mixture of what I've got a hankering for. I have an enduring fondness for Sweet Tomatoes based on a loyalty the restaurant earned during my first pregnancy. I was the stereotypical pregnant woman with bizarre and often unattainable cravings, and for a month during the late summer of 2000, I ate at Sweet Tomatoes nearly every day solely for a pasta-tuna-tarragon salad that I'm pretty sure my life depended on.
I suspect part of the decline of the salad bar has to do with the hands-on aspect of it all. Some people simply don't want to handle the food they eat at a restaurant, I suppose, leaving that task to servers. It goes without saying that a great salad bar should have abundant ingredients that are kept fresh and well-stocked at all times, and declining popularity means ingredients are more likely to languish before being consumed, hastening the demise of this beloved concept.
MAD Greens is a new favorite salad spot, and it might just prove to be the salvation of the salad bar. It's sort of a hybrid, and instead of do-it-yourself, you choose your favorite salad ingredients and the salad is assembled for you while you watch. Oooh! Something else I love: telling other people what to do. So what I lose in control I more than make up for in bossiness. Mad Greens has lots of salad combinations on the menu, but I love to come up with my own creations. As someone who thinks onions should never, ever be eaten raw, their grilled sweet onions are one of the best salad ingredients available anywhere, making a trip to MAD Greens worthwhile. (New location coming soon to Lincoln Commons in Lone Tree).
So I'm not completely out of options, but I'm always on the lookout for something new. Connection readers, where do you go when you want a great salad? Is there a salad bar secret I'm missing? Let us know where you go for a greens fix, and we'll check it out (Editor@castlepinesconnection.com). In the meantime, if you need me, I'll be heading out for some of that tuna pasta with tarragon. It's delicious.