Inspiring students to draw
November 1, 2019
/
/
Comments Off

on Inspiring students to draw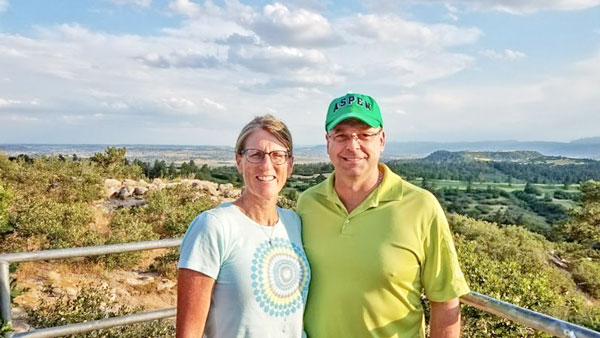 Pictured above, Melissa and Andy McCune have happily called Castle Pines home since 2011. Pictured left, Melissa's book provides inspiration for drawing pictures.

By Celeste McNeil; photos courtesy of Melissa McCune
Castle Pines resident Melissa McCune strives to share her love of art with as many individuals as possible. As an educator, she can reach many every day. In addition to teaching art at Frontier Valley Elementary School in Parker, McCune recently created a drawing book to help stir the creative juices of anyone who likes to draw but lacks ideas about what to draw.
McCune's passion for art can be traced to her great-uncle Lon. While visiting her artist uncle when she was in high school, the professional watercolorist gave his great-nieces an art lesson. McCune was intrigued. "It was so amazing to see a blank paper transform into something meaningful to me with the guidance from my great-uncle."
Similarly, her passion for teaching was sparked by her high school art teacher. His encouragement and guidance allowed McCune to explore various ideas and many facets of art including photography, painting, ceramics and sculpture. She realized then that she could influence others in the same ways she had been inspired. "Wouldn't this be a lot of fun to teach and help students be successful in many ways through art? I decided I would become an art teacher and never regretted that decision."
With the support of her husband, Andy, and their sons, Aaron, Evan and Cowan, McCune has spent the past 25 years sharing her love of art and her dedication to education. Teaching art has taken McCune to a variety of settings including suburban, rural, and overseas military schools and even homeschoolers, after school art clubs, art camps and birthday parties too. She has been an elementary school art teacher in Douglas County for the past seven years.
McCune noticed over the years working with children and youth, that many students like to draw but struggle to connect their art skills with composition and other art elements to produce a finished product. So, she designed her book Creative Picture Drawing to help. Her book has some introductory drawing tips, but the general focus is to provide inspiration and a starting point, arranged around themes. Creative Picture Drawing functions like writing prompts only for drawing pictures. Included in the book is an inspiration gallery with 50-90 items for each theme and ideas for placement. "Each time they choose a theme, they can alter the arrangements of items and add their own ideas…my book addresses students' need to personalize and express ideas through drawing," McCune said. McCune's book is for anyone who is interested in drawing. "There is success in every student, and I like the challenge of helping them find it."