November 1, 2019
/
/
Comments Off

on Kill Zone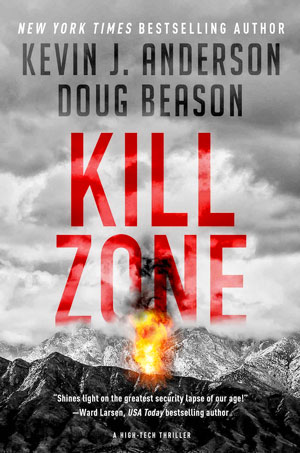 By Susan Helton
Connection writer Susan Helton is an avid reader, once reading 64 books during the summer – just because. This month, she shares a new high-tech thriller.
Kill Zone is a tense disaster thriller by bestselling author Kevin J. Anderson and Doug Beason, local author and resident of The Village. The book was released in August.
The story centers around the need to safely store nuclear waste and the accompanying dangers. Adonia Rojas, a nuclear power plant site manager, is summoned to help perform a security review of an old nuclear weapons storage facility deep within Hydra Mountain in Albuquerque, New Mexico. An unlikely team – a senator, two federal bureaucrats, a military aide and an environmental activist – joins her to inspect the facility, now repurposed to store hazardous waste from the country's nuclear power plants.
But the facility was never meant to securely hold this much hazardous material. It has the potential to explode, destroying Albuquerque and spreading radioactivity far and wide. When a small plane crashes nearby, this disasterous situation proves all too plausible. The crash sets off a lockdown, trapping the inspection team inside, where they face increasing peril as they discover deadly secrets in this facility that they seek to escape. Also, it seems there are hidden agendas at play – potentially at cross-purposes.
The epigraphs – quotes found at a book's beginning – created a sense of foreboding right from the start with their chilling definition of "kill zone," and descriptions of a safe nuclear waste storage facility and secret government programs requiring special access requirements. The tension kept building page by page as unintended consequences of combining a legacy system with modern technology threatened the team and pushed them further into the facility in search of a way out.
An enjoyable, fast-paced read, this novel also highlighted some hazards and challenges of storing nuclear waste safely, as well as the potential danger of secret programs and the folly of a 'rules don't apply to me' attitude. The authors provided rich technical details which helped explain the complicated systems and programs in the story. I think this complexity contributed to the wonderful, intense level of suspense. I found Kill Zone thoroughly entertaining and did not want to put it down. I just had to see what happened next!

Want to share a great book you have read? Please email shelton@castlepinesconnection.com.