It all started with a vintage trailer
January 1, 2018
/
/
Comments Off

on It all started with a vintage trailer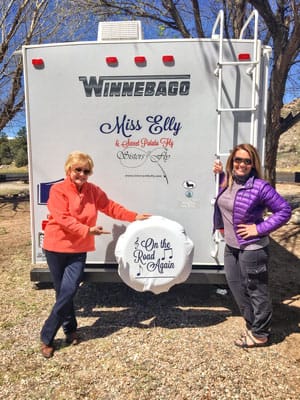 Elly Harper of Timber Canyon has fully embraced being an adventurous Coloradan! Harper joined the outdoor adventure group Sisters on the Fly and claims the group has "given her a new lease on life." Harper is pictured horseback riding in Bryce Canyon, fishing on the Colorado river, and with her daughter Anne, who joined the group after seeing how much fun her mom was having traveling in her trailer, named "Miss Elly".
By Lisa Nicklanovich; photos courtesy of Elly Harper
It was just a few years ago when Elly Harper, who was new to the 80108 ZIP code at the time, attended a book group with her daughter Anne. The group met outside on a warm Colorado evening, and Harper could not take her eyes off the 1968 Red Dale vintage trailer that was parked out front. When the air got chilly, the group went inside the trailer, and Harper fell in love with it, especially the cowgirl and fly fishing decor. She learned the trailer owner was part of Sisters on the Fly (SOTF), a women's outdoor adventure group, and without knowing more than that, Harper said, "I'm in."
Since then, Harper has fly fished on the Arkansas River, hiked in Bryce Canyon and the Grand Tetons, kayaked at Flaming Gorge, rode a horse at Mt. Princeton and fished from a drift boat in Jackson, just to name a few of her adventures. Harper's eyes light up as she describes SOTF as, "a caring sisterhood that is an opportunity for growth as a woman. It is learning, growing and developing confidence outside of my comfort zone because I had not done many of these things before."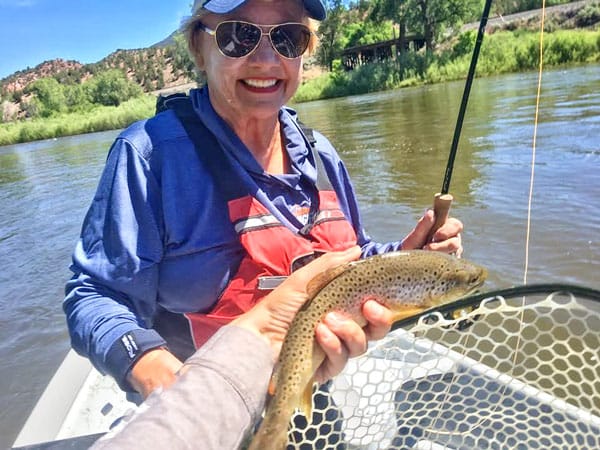 Harper admits, "I had never fly fished in my life, and I never hiked or camped either." After one trip with SOTF where Harper rented a cabin, she purchased a 17-foot Minnie Winnie trailer. "I didn't know how to do anything. I couldn't have fixed it if I had to. I learned how to pull it, how to back it up and take care of it." Harper attended a SOTF class called "Wenches with Wrenches," which taught basic mechanics, but Harper explained that the sisterhood looks out for one another and shares encouragement and knowledge. "We caravan together, and the rule is, if someone breaks down, everyone stops. No one is ever left behind, which is a relief to me. It isn't scary when you do it this way because you're not alone. It's a true sisterhood."
As with most sisterhoods, the group does more than "turn women into girls" and "have more fun than anyone" — some of their mottos; SOTF members take part in fundraisers, volunteer through a SOTF foundation for disaster relief, and provide support for one another through life-changing events.


Harper and her husband Bill will soon be celebrating their 50th wedding anniversary in a way Harper would not have imagined a few years ago; they will be fly fishing in Montana.
For more information about SOTF, visit www.sistersonthefly.com or contact Harper at ellyharper121@gmail.com.