February 1, 2010
/
/
Comments Off

on Journey to Eagle Scout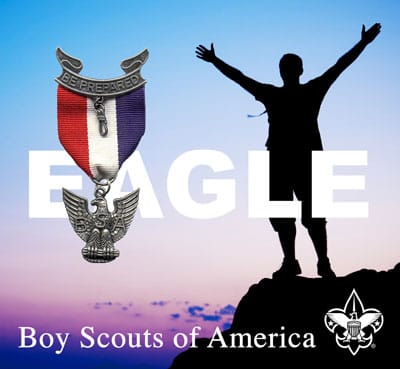 by Elizabeth Wood West
What do President Gerald Ford, movie director Steven Spielberg, and Wal-Mart founder Sam Walton have in common? They were all Eagle Scouts. Eagle Scout is the highest rank in Boy Scouts of America. This organization has millions of members, but fewer than five percent of all Boy Scouts earn the rank of Eagle.

Who Founded the Boy Scouts?
The founding of Boy Scouts is credited to a turn-of-the-20th century British Army officer, Robert Stephenson Smyth Baden-Powell. While stationed in India, Baden-Powell wrote a small handbook called Aids to Scouting, to address his men's lack of training in basic first aid and outdoor survival. Baden-Powell's distinguished military record during the Boer War earned him recognition back in England. He later discovered that his little handbook had become popular with English boys, who were using it to play the game of scouting.
In August 1907, Baden-Powell decided to test his survival ideas with about twenty boys during a twelve-day campout on Brownsea Island, off England's southern coast. The boys divided into patrols, played games, hiked, learned stalking and pioneering, and learned how to cook outdoors.

Boy Scouts in America
Around this same time, boys groups such as the Woodcraft Indians and Sons of Daniel Boone were beginning to form in the United States, but remained separate organizations. Chicago businessman William D. Boyce became a beneficiary of the famous Boy Scout slogan, "Do a good turn daily," when visiting England. Boyce became lost in the fog, when a boy appeared and helped him to his destination. Boyce offered to tip the boy but the boy refused, explaining that he was a Scout and would not accept payment for the good turn.
Boyce was impressed and eventually met with Baden-Powell. Boyce incorporated the Boy Scouts of America on February 8, 1910. The "unknown Scout" who helped Boyce in the fog was never heard from again, but he and his good turn are part of the inspiring history of Boy Scouts of America, which will celebrate its 100th anniversary in February 2010.

Where did the Eagle Rank come from?
Baden-Powell introduced badges for achievement in his 1908 book Scouting For Boys. Baden-Powell got the idea of awards from American naturalist Ernest Thompson Seton and his Red Indian Boy Scouts of America. During a review of the 1911 proof version of the Handbook for Boys, leaders chose the American Eagle, rather than Wolf (which had been suggested), to become the highest rank for Scouting in the United States. In 1912, Arthur Eldred became the first Boy Scout to earn the rank of Eagle.

Becoming an Eagle Scout
A Boy Scout must complete all rank requirements of Tenderfoot, Second Class, First Class, Star, and Life Scout to advance to Eagle Scout. He must be active in his troop and serve in a leadership position for at least six months after becoming a Life Scout. He must obtain reference letters from adults he knows that state that he demonstrates the principles of the Scout Oath and Law in his daily life. He must earn a total of at least 21 merit badges, including eleven specifically required for Eagle.
As a Life Scout, he must plan, develop, and lead volunteers in a service project that will benefit any religious institution, school, or community organization (other than Boy Scouts). The project must be approved by the organization and Scout officials.
Last of all, he must successfully pass an Eagle Scout board of review. This intense review helps to build boys' confidence and equips them with skills they will need for future job and college interviews.
In 2008, Eagle Scout service projects provided $16 million in service to communities. The one millionth Eagle Scout milestone was reached in 1982. In 2009, the two millionth Scout earned the rank of Eagle.
For more information about Boy Scouts of America or to find a troop in your area, please visit www.scouting.org.