Less is more for the biggest loser; a work in progress
February 1, 2010
/
/
Comments Off

on Less is more for the biggest loser; a work in progress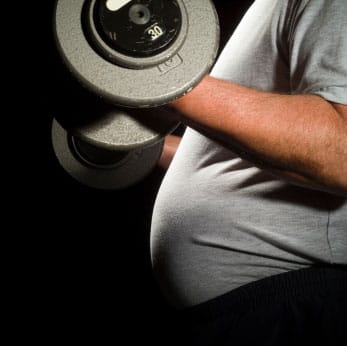 by Anthonette Klinkerman
The majority of people diet after the New Year, but one Castle Pines North (CPN) resident got a jump on a healthier lifestyle before the holidays. Tim Gamble, who is also The Castle Pines Connection photographer and webmaster, joined "The Biggest Loser" competition hosted by Village Fitness. He came away 32 pounds lighter, and with a title and a new attitude towards exercise and healthier eating.
It was during the Annual Chamber of Commerce OctoberFest in CPN that Gamble was approached by a fitness trainer from K Paul Fit. Kent Paul, a nutrition specialist and former Mr. Colorado title holder, convinced Gamble to give his program a try. A week later, Gamble was in a room with about 25 other people committing to the next eight weeks.
Gamble said he reached 346 pounds at his heaviest. He explained this was actually his fourth attempt at losing weight. Over the years, yo-yo dieting and smoking had not done his metabolism any favors, but this was a competition and he knew he had to commit, and waiver he did not.
The group started with a weigh-in, and they were given notebooks to keep track of their diet and progress. Gamble's partner was a traveling salesman, and therefore his time on the road only permitted talking via phone calls from hotel gyms.
At the end of the first week, Gamble and his partner were in first place. Much like the television show, the Biggest Loser program at Village Fitness determined rankings by percentages of weight lost, versus the total pounds. The two made a commitment to stay in first place, and their resilience paid off with a trophy and a year's worth of meals from corporate sponsor Noodles & Company.
"It actually is kind of fun with a personal trainer," Gamble said as he described his experience. His trainer, Caleb, considered Gamble's arthritic hip and bad knees before designing a program for him. Gamble chuckled, "Everyone was so nice as I was staggering around the gym the first week or so."
Eventually the weights got bigger, and the exercises got harder. His sense of humor led Gamble to name the weight machines so he could better insult his torturers. At the final weigh in, he had lost 32 pounds, and his partner lost 37 pounds, making them the Biggest Losers.
"I would have never done this on my own," Gamble confessed. "I saw people in there who were me a year earlier, and I realized they really do work at it every day."
Gamble has even signed up to go another round. "I am a work in progress," he declared.