September 1, 2015
/
/
Comments Off

on Leading by example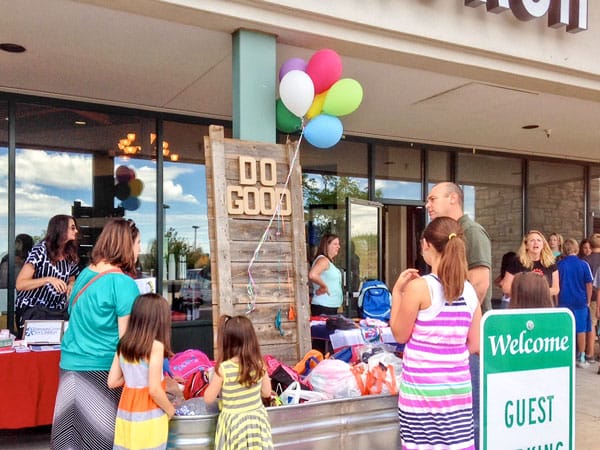 Members of Foundry Church in Castle Pines came together for the Do Good Challenge, helping others in need.
By Riley Busch, RCHS intern writer; photo courtesy of Debra Prince
When you look around you, what do you see? Do you see only the world, full of your worries and problems? Or, do you see the good in everything around you? The people at Foundry Church look at the community and see opportunities to give kindness and aid to others.
Since early winter, Pace-setters and youth at the Foundry Church in Castle Pines have been working on making their community and world a better place through the Do Good Challenge. The goal of the challenge is simple: To lead by example, showing others that they can do good for their community.
Each challenge group was given approximately $100 to do with what they wished. They had to find a creative way to make the biggest impact possible in the community.
The church members have come up with absolutely amazing ways to give back. From getting someone's hair dyed to helping to build water wells to providing school supplies to families in need, help and healing is reaching a large scale. Challenges range from small, local activities and gestures to larger projects that branch out to other places in the United States.
Recently, Foundry has been making great strides in growing its challenges. People are working to build things like water wells and pregnancy awareness centers because of the loving and helpful community of people. Donation money for different charities like Water to Thrive and Dress a Girl Around the World are steadily growing. The growth that every challenge has made is astounding!
Outside of the Do Good Challenge, Foundry Church has also done many different things to spread kindness. Judi Thomas, challenge participant and Foundry leader said, "The best part about activities at Foundry is that we get to come together and make a real impact in people's lives. Earlier this year, we sponsored a fundraiser for a local police officer and raised over $50,000 to support his family. And on September 27, we will host a community wide tailgate party to raise money for underprivileged children to receive incredible leadership development opportunities. We believe our community enjoys coming together to help others and we are happy to organize events where that can happen."
Even if you are not involved in the Do Good Challenges, there is still a very important lesson to be learned. "People can learn that true happiness doesn't come from money or fame. It is kindness that can give happiness. You do not need any rewards," stated Foundry Church member and Castle Pines resident Courtney Cunningham.
You do not have to be involved in a specific event or club to do good in the world. Even the smallest act of courtesy can make a difference. Not only do the challenges help others in need, they bring others closer together.
Many people volunteered to help, even if what they could do was limited. If the members of Foundry have spread any message with their good deeds, it's that we can do good wherever we go.