Lone Tree Link celebrates a year of success
September 1, 2015
/
/
Comments Off

on Lone Tree Link celebrates a year of success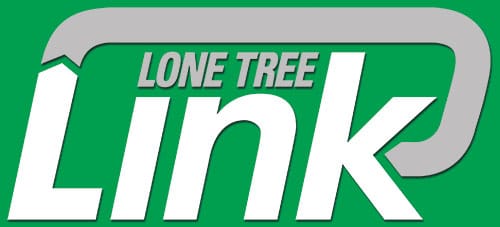 By Patte Smith

More successful than organizers imagined, the Lone Tree Link is going strong and will celebrate its first anniversary on September 17. "We've been extremely impressed with the Lone Tree Link service and the positive response from riders who have chosen to utilize the free shuttle to get them to and from the Lincoln light rail station, their place of employment, or the entertainment district," stated Lone Tree Mayor Jim Gunning.
The public-private pilot program was originally funded by the City of Lone Tree, Charles Schwab, Sky Ridge, Kaiser Permanente, ParkRidge Corporate Center/OmniPark Metropolitan District, and the Denver South Transportation Management Association.
"Partner contracts have been renewed for one more year with the exception of Kaiser Permanente," noted Kristen Knoll, Community Outreach Coordinator for the City of Lone Tree. "They made the business decision to not continue with the service for September 2015-16, but will reassess again next year. All other partners will continue through next year."
"We have calculated that in the first year of service we will have over 60,000 boardings by riders using the shuttles – that is more than can fit inside Coors Field which holds 50,398," emphasized Knoll.

"The free service is an example of the City of Lone Tree's proactive approach to preparing for and encouraging future economic growth and to mitigating related traffic impacts," said Gunning. "It's an innovative program where the city can test new ways to alleviate traffic for a relatively small investment of public money. The city and the partners behind the Link are investing in Lone Tree to assure it remains a premier community for both businesses and residents."
In September of 2015, the Lone Tree Link will continue to run five days a week from 6 a.m. until 7 p.m. with five stops along Park Meadows Drive – the entertainment district, Lincoln light rail station, ParkRidge Corporate Center, Charles Schwab campus and Sky Ridge Medical Center. There will not be a stop at Kaiser Permanente. Shuttles offer pick up and drop off service every ten minutes.
For more information about the Lone Tree Link visit www.lonetreelink.com.