May 1, 2018
/
/
Comments Off

on Legislative Day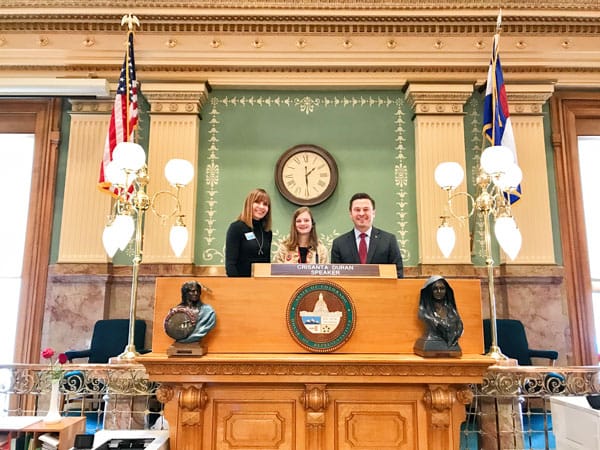 Squires joined Representative Wist and his aide Patty at the speaker's podium.


Article and photos submitted by Emma Kate Squires, RHMS eighth-grade student
Colorado's Association for Gifted and Talented each year hosts a Legislative Day, held the Thursday after Presidents Day. This is a day when students identified as gifted have an opportunity to go to the capital and shadow a state legislator for a day. I have been a part of the gifted program for three years and I had the privilege of being a part of this day.
I was lucky enough to get to shadow Representative Cole Wist. He said that he loves the program because "it allows students to get a full and accurate picture of what a day in the legislature looks like. You can't always get a feel for that when you watch from the gallery or read from the press." Students that get selected to shadow (at least in the House) get a seat on the floor next to their legislator.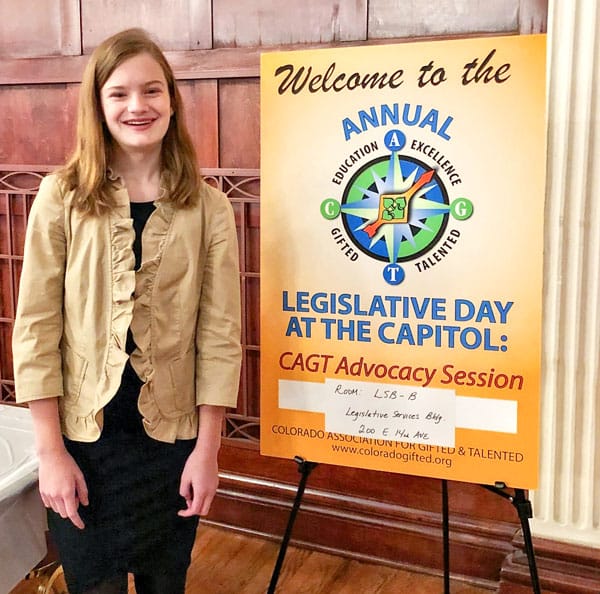 It was eye opening for me to understand how much impact people actually have on bills. When the bill is first being introduced it goes to committee and in this time the committee gets to hear testimony from citizens. Everyone who attends the session gets heard that day, or night, depending on how many people want to testify.
This was my first time – hopefully not my last time – participating in Legislative Day. I was interested in Legislative Day because I am a debater, so naturally I am fairly involved in politics. I thought it would be a great opportunity to get a professional opinion on some of the topics I am doing. There is an application process: a simple online application that lets you say what topic you would like to discuss with your legislator. The topics that I discussed were lotteries and net neutrality, for debate, and immigration laws and gun control.
It was an incredible experience that I will never forget because I learned so much about law and what I can do as a citizen. I would recommend this to any and everyone. I can't wait for next year!