New weight room at RCHS adds more than muscle
May 1, 2018
/
/
Comments Off

on New weight room at RCHS adds more than muscle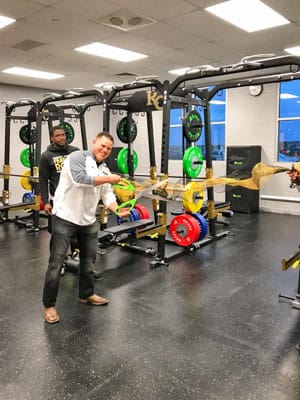 Coach Brian Tinker doing the honors at the ribbon cutting ceremony on April 12 in the brand new RCHS weight room with Coach A.J.
Article and photos by Alec Sutula, RCHS intern writer
"Let's get to work. Hit the racks," said Rock Canyon High School (RCHS) football coach Brian Tinker. This time though the atmosphere around the weight room was much different than before. Over spring break all new equipment was installed in the RCHS weight room. As the tired students moseyed in, their faces soon lit up with awe as they saw how the weight room had been transformed.
"It is truly amazing to see the new weight room. All the new equipment and even the paint job just brings a new atmosphere to it," said Cole Lynch, a junior and football player. "I can't wait to see where this weight room takes us." Brandon Dodd, a junior and football player said, "The atmosphere is my favorite part, to see where we came from with the old weight room to now, it's special."
All RCHS sports contributed to the $120,000 cost of the new weight room, which includes double the rack space, competition bumpers to allow for competitive weightlifting, assorted dumbbells ranging from 10 pounds to 100 pounds, plyo cubes, medicine balls, ropes, and bands for mobility. Weightlifting for any sport is vital to building strength and endurance. In the new weight room, students can find an exercise that benefits them best.
"My favorite part is how individualized lifting is with more racks. We are really able to personalize our workouts and that helps us come together as a team to know our strengths and weaknesses," said Aaron Schulz, a Castle Pines resident and football player.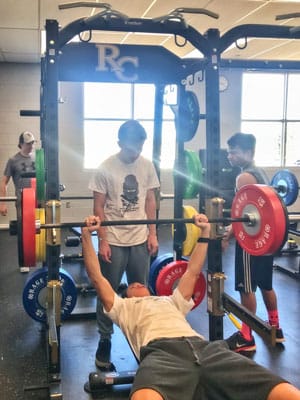 Rock Canyon High School student-athletes Brian Todd (on bench) and Cole Lynch (spotting) getting a work-out in the brand new weight room which was installed over spring break. "I love how spread out everything is now, there is so much more room to get a quality workout in," said Daniel Woodley, a junior who trains in the weight room for track.
With new equipment from Rage Fitness, student-athletes can take their game to the next level. The weightlifting racks have a multitude of workouts that can be performed on them, such as squats, bench press and pull/chin ups. "The new racks are awesome; there are so many different things you can do on them. You don't have to waste time going from exercise to exercise anymore," said Colton McLeod, a junior and football player.
"We raised the money from fundraising and collaboration. I love the new functionality and flow of the room; it allows more athletes to get a workout in," Coach Tinker said.
As a football player myself, I can already see an improvement in my strength and endurance from the new equipment. Every athlete's competition level rises as they walk through the door now.
In addition to all the new equipment, one of the most important improvements is the new stereo system. "I love it; music is always an important piece to working out," Lynch said.