LEGO brings unique adventure to The Wildlife Experience
December 1, 2014
/
/
Comments Off

on LEGO brings unique adventure to The Wildlife Experience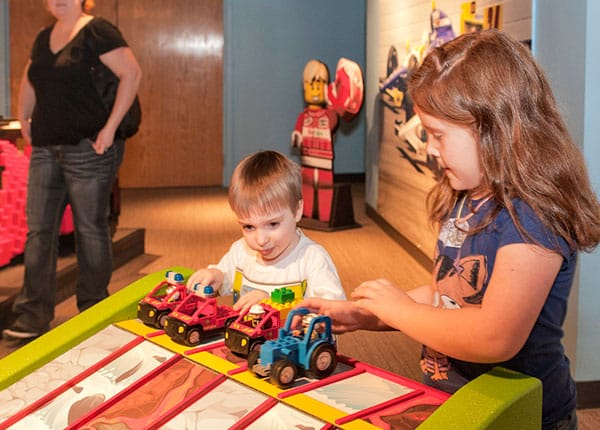 Life-sized LEGOs, DUPLO racetracks, and virtual building activities are featured in the LEGO Travel Adventure exhibit, now showing at The Wildlife Experience in Parker.

By Lisa Crockett; photos courtesy of The Wildlife Experience
LEGO bricks are the building blocks for an exciting new exhibit at The Wildlife Experience (WLE) in Parker. The exhibit, called the "LEGO Travel Adventure" is on loan from the Children's Museum of Indianapolis. In keeping with the spirit of LEGO, much of the exhibit is hands-on, allowing patrons to build their own creations, while other portions of the exhibit give patrons a chance to admire the handiwork of expert LEGO craftspeople.
Featured in the exhibit are a number of different tools for exploration, ranging from DUPLO racetracks and a kid-sized DUPLO car to virtual LEGO construction, to brick models of world landmarks. One of the highlights of the exhibit is the Travel Adventure Vehicle, or T.A.V. as it is called, which features a cockpit with two seats and steering wheels. Video screens display a loop of travel through a variety of environments.
"Whether young or old, LEGO Travel Adventure has something for everyone," said Jennifer Fantasia," public programs coordinator at WLE. "Adults can explore the history of travel through land, water, and air, while kids can get hands-on with interactive displays that allow them to create their own Lego-mobiles. It is a fun and unique exhibit that gets everyone engaged."
The LEGO Travel Adventure is at the Wildlife Experience until January 4. Entrance to the exhibit is included in the price of admission to the museum. For more information, visit www.TheWildlifeExperience.org.