Cruise control: get help with your next getaway
December 1, 2014
/
/
Comments Off

on Cruise control: get help with your next getaway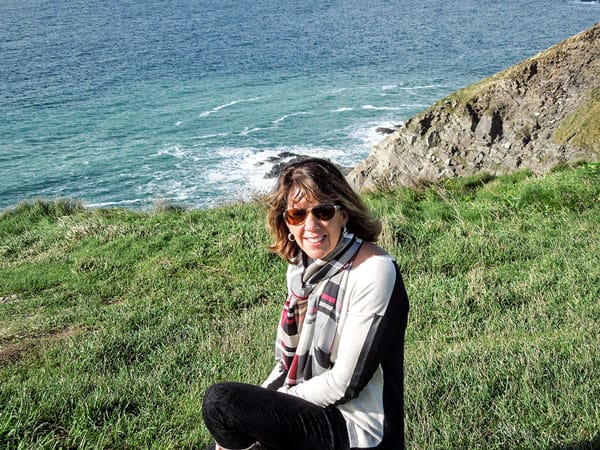 Castle Pines resident and travel consultant Nancy Warner has gained much of her travel knowledge through first-hand experience, like this trip to Ireland.

By Lisa Crockett; photos courtesy of Nancy Warner
Vacation time. Whether Santa is bringing you some cash to spend on a getaway in the near future or you're thinking of longer-range plans, figuring out the best way to spend precious time off can be a daunting task. Enter Castle Pines resident and travel consultant Nancy Warner, a world traveler with the know-how to make your next trip everything you're dreaming of.
"My goal is for everyone to have a great vacation," said Warner. "Whether it's a trip to Chicago or Vienna."
Warner's new business, Cruising With Style, is an affiliate of Avoya Travel, a small company that gives Warner vital connections to other agents who can offer knowledge and advice when she needs it. After a career in property management, Warner decided to pursue her passion for travel by becoming a certified travel consultant. Her personal touch is the hallmark of what she does and her first-hand knowledge of many of the hottest destinations gives her valuable expertise. Warner is able to plan trips and tours of all kinds, especially cruise ship getaways.
"The travel industry has changed," said Warner. "There are almost no 'walk-in' travel agencies anymore. Cruise lines, rather than hiring their own agents, have reached out to independent travel agents. I have access to deals and perks that consumers don't and because my commissions are paid by the cruise line, it doesn't cost customers a thing."
When Warner is planning a trip for a client, she said she's especially aware of two key factors that are typically precious commodities: time and money. Given her training, expertise and access to planning tools, Warner can navigate a sea of options quickly and efficiently while also keeping an eye out for the best value.
"Nearly everyone has a budget, but that shouldn't be a barrier to taking a trip" said Warner. "I also think people are sometimes intimidated about the unknowns when they visit an unfamiliar place. I can give travelers the information they need – how to get on the Metro, for instance – to offset any fear they might feel."
Much of Warner's expertise comes from personal experience. A dyed-in-the-wool globetrotter, she's been far and wide, largely courtesy of her husband Rick's career – first in the Air Force and then as a pilot for United Airlines. She's been just about everywhere from New Orleans to New Zealand, and is quick to offer tips and advice for how to make a trip great.
During a "house call" planning session, Warner helps clients navigate multiple options. In some cases, that might entail simply making airline reservations and then planning hotels, tours, and restaurants. In other cases, a cruise – whether on an ocean or a river – might be the way to go.
"Sometimes, in looking at what people want to do, it's just easier to be on a boat," said Warner. "It's like a floating resort. You can still see all the things you want to see on land during excursions, without all the hassle of going from hotel to hotel."
Lead time for planning a vacation varies greatly, but for big holidays or "high season" trips, Warner recommends roughly six to eight months. On the flip side, travelers who can pick up and go on a moment's notice can sometimes snag amazing deals, which Warner said might be less expensive than staying home.
Whether a client is looking to plan for next year or next week, Warner is game for any challenge and excited about helping people see new places.
"I think everyone needs to travel abroad," she said. "We are so fortunate to live here, but it's really good to get outside the U.S. and get that perspective."
For more information about Cruising With Style, visit www.AvoyaTravel.com/Experts/NancyWarner.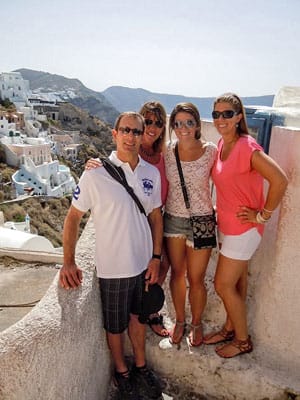 Warner and her family in Santorini, Greece.