Live streaming of sports comes indoors to volleyball
November 1, 2015
/
/
Comments Off

on Live streaming of sports comes indoors to volleyball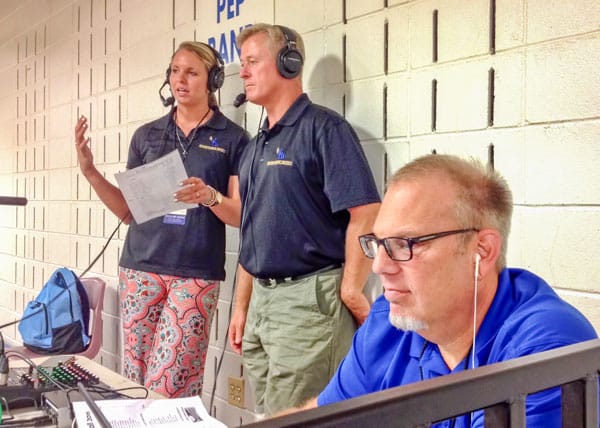 CSU graduate and 2013 Mountain West Volleyball Player of the Year Samantha Peters (left) gives play-by-play and color commentary for SIS volleyball. She is pictured above with Northern Colorado Sponsorship Director and play-by-play commentator David Haase (middle), as well as Producer Randy McCoy (right).
By Kathy Fallert; photos courtesy of Phil Mildren
Phil Mildren, owner of Stream it Sports (SIS) in Littleton is all about making high school sports broadcasting accessible to all. Instead of paying to watch or having to register to view sporting events, SIS operates through sponsors making it a breeze for the friends and families of athletes to simply go online and watch.
Mildren has made a personal investment to ensure high school sports accessibility for all comes to fruition, first in football and now in volleyball. Mildren's love for sports and past video production experience while in college gave him the edge to start this endeavor prompted by parents who were looking for better quality streaming of their kids' sporting events.
SIS provides an alternative to watch the game live or even watch it later with an athlete without having to miss it due to work or other reasons. While some live streaming companies use inexpensive cameras and tripods, SIS doesn't cut corners for its productions which Mildren considers to be a community service.
Mildren said, "I strive for excellence in my productions and make them as good if not better than any college broadcast. And I want to make them available to everyone, including high school kids." SIS did a live stream broadcast of the recent Rock Canyon High School versus Ponderosa High School varsity volleyball match on October 28. Check out the broadcast and on-demand replay for the recent RCHS versus Ponderosa volleyball match from October 28 at http://www.streamitsports.com/vb/2015/ponderosa-vs-rock-canyon/.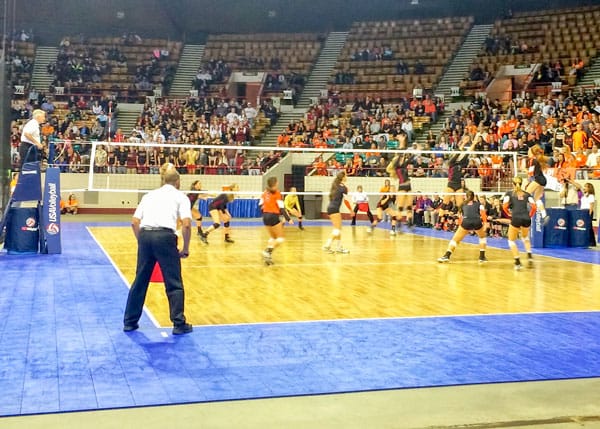 The SIS broadcast talent who does the game play-by-play and color commentary are radio and TV professionals with years of experience, including Marty Cesario (CET & ESPN), Cory Lopez (850 KOA), and Rick Lewis (103.5).

While many high schools are doing their own live streaming, not all schools have someone who knows what to do or how to do it. Some of the less popular broadcasts only bring in 100 to 150 viewers, but the bigger events draw up to 12,000 viewers showing the interest in streaming is there.
Mildren recalled, "I played football and soccer in high school. My soccer team went to state and won the championship but the game took place on the other side of the state. I remember stopping at the gas station on my way home with the trophy in my front seat and thinking that not one person I knew saw anything I did in the championship game. I don't want other kids to experience that."
SIS is actively seeking businesses interested in being part of the games and providing sponsorships. To find out more about SIS and its live stream broadcasts, visit www.streamitsports.com.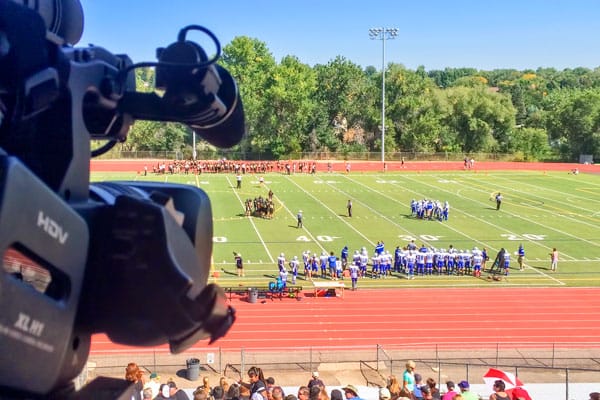 All SIS games are broadcast in high-definition utilizing the same quality of equipment as local TV stations, if not better.