Local high school theater clean-up a hit
January 1, 2010
/
/
Comments Off

on Local high school theater clean-up a hit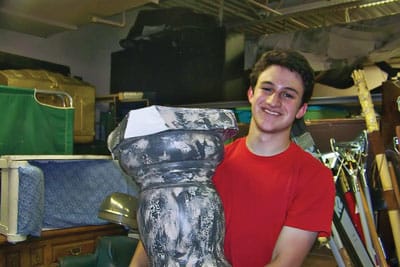 Eagle Scout candidate Emerson Steinberg during renovation and reorganization of Douglas County High School's theater.
Article and photos by Elizabeth Wood West
Eagle Scout candidate Emerson Steinberg, 18, has been very involved in the theater program at Douglas County High School (DCHS) since the ninth grade. Steinberg recently found a way to give back to the theater program he enjoys so much. Steinberg developed a plan to renovate and reorganize the props loft above the theater at DCHS for his Eagle Scout project.
Steinberg has been a member of Boy Scout Troop 316 of Castle Pines North since the eighth grade. Steinberg attended DCS Montessori Charter School in Castle Pines North and Rocky Heights Middle School, and then transferred to Douglas County High School to enroll in the International Baccalaureate Program. He is currently an IB Diploma candidate.
"Because of the recent decrease in funding to the Douglas County Schools and the lack of funding, in particular, for the arts, this project seemed to be a perfect way to provide a benefit to the school and the program I love," Steinberg said.
What was involved with the Project?
"The project involved taking thousands of items out of the loft, sorting them appropriately, and then finding a place for each of them inside the newly renovated loft. We also had to deconstruct many of the old shelving units (including an old set of lockers which needed to be removed), creating room for new shelving units, which would use the space much more efficiently than the previous ones."
"I had the help of over thirty volunteers in completing this project, with a total of 278 volunteer hours over the course of three days. I worked closely with the theater department, Ms. Judi Hofmeister, Mr. Michael Vahle, and Ms. Karie Johnston, to create a space and organizational system that would be useful for a very busy theater program."
Steinberg continued, "As the project was started, it appeared to be overwhelming! The props were completely covering the stage and extending up the aisles of the theater. A large group of volunteers began sorting the piles of props while another group worked on deconstructing shelves and building new ones. The renovation part of the project went through three different renditions before the final plan was approved. This consisted of new, pre-built shelves with storage bins."

What did you learn from the Eagle Scout project?
"The completion of this project, as well as receiving the rank of Eagle, helped me to discover qualities within myself that I may have otherwise not utilized. I learned how to become a strong leader, who can help a large group of people all see a common goal. I am dedicated and persistent; willing to see a task through to its end. I learned to act as a leader when appropriate, while still understanding the importance of cooperating with leadership when the power is not in my hands."
"The road to attaining the Eagle Scout rank has taught me that I exist as an individual piece of a whole community, and that while I act independently, my actions affect my surroundings, and vice versa. It has taught me that everything I do can have an impact outside of my own life, and that it is very easy for one person to make a difference in the lives of other people."
For more information about Boy Scout Troop 316, please visit their website at www.scouts316.com.