Local Residents Launch Effort for Recreation Center in CPN
December 1, 2006
/
/
Comments Off

on Local Residents Launch Effort for Recreation Center in CPN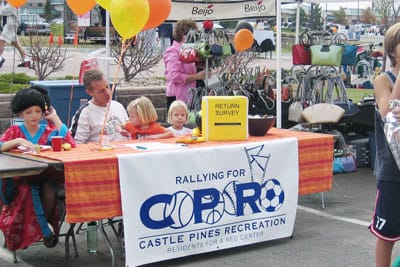 by Elean Gersack
According to a local group of residents, now is the time to bring a recreation center to Castle Pines North (CPN). With the community virtually at build out, land options are narrowing and a plot for civic use may become available on the Lagae Ranch property, located behind King Soopers. Civic amenities, like a recreation center, would create a soft buffer between the current commercial and residential areas of CPN.
Sally Wagner, a resident of HOA2, is leading the effort. "Everything is conceptual right now. We want to understand the desires of the community and move forward to best meet those needs," said Wagner. "This could be anything from a small neighborhood center to a regional facility – it's all up to the community." During OctoberFest, the group conducted an informal survey to better understand community support for a center – 80 percent were in favor, 10 percent were against and 10 percent had no opinion.
A recreation facility is not necessarily all about sports. A center could also have multi-use rooms available for things such as art or education classes or it could even house a small library pod. "We want to create a gathering place for all of those in our community," said Wagner.
According to Katie Everett of ReMax Classic, community centers are ranked as a top five attribute most wanted by home buyers. "People want to feel like they are a part of something," said Everett.
In the near term, a professional community phone survey will be conducted to a sampling of the community. This data will enable the group to present findings to the CPN Master Association, CPN Metro Board and the Castle Pines Parks Authority sometime in early 2007. From this survey, the group hopes to learn about the level of community support, the features most desired by the community, and the cost per family threshold for such a facility.
The group meets on the first Wednesday of each month at 7 p.m. at the HOA2 Clubhouse, located at 7306 Oxford Drive (please note that the December meeting will take place on Tuesday, December 5.) All residents are welcome to attend to share thoughts, ideas and opinions.
For more information about the recreation center efforts, visit www.cpnrec.com.