Master Association's Annual Meeting Presented Overview of Community
December 1, 2004
/
/
Comments Off

on Master Association's Annual Meeting Presented Overview of Community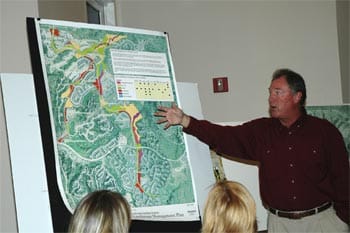 The Castle Pines North Master Association held its annual meeting on November 16.
Highlights included the election of new delegates and directors, a report from the Parks and Open Space Manager, a review of the past year, and a look ahead.
An overview:
The Master Association welcomed new delegates
representing the following neighborhoods:
Briar Cliff: Keri Brehm
Bristle Cone Single: Kim Hoffman Feilmeier
Stonecroft: Mike Riggle
North Lynx: Ken Naes
The Retreat: Lane Roberts
South Lynx: Brad Greinger
Winter Berry: CeCe Marshall
Maureen Shul and Doug Gilbert were re-elected to the Master Association Board.
Charlie Fagan, Parks and Open Space Manager, provided a report on the planned Castle View Park. Synthetic turf will be used on the athletic fields, providing a surface that requires no watering and much less maintenance than grass.
CPN resident and Douglas County School District Asst. Superintendent Bill Hodges invited the Community to provide feedback on the School Board's mission statement, currently being re-evaluated.

Master Association Services Described
Master Association President Linda Nuzum summarized the Association's activities and services for the year, including a recap of the e-mail and web enhancements completed in 2004 and planned for 2005.

Development Update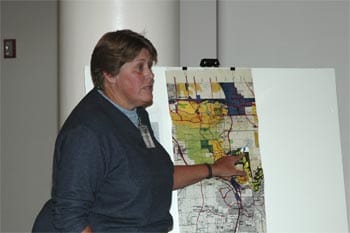 Nuzum also provided an overview of development in CPN and surrounding areas.
CPN is approaching 90 percent buildout of the planned 3,260 homes. By this time next year, all non-custom homes will be completed.
The Canyons development, on the east side of I-25, is proceeding with its plan of 2,500 homes scattered south and east of CPN toward Crowfoot Valley. Nuzum noted that the planned density is much less than CPN and covers a much greater area.
RidgeGate, on the other hand, is a high-density plan that will include high-rises, mixed use residential and commercial, light rail, and a proposed 40-year building schedule. Ridge Gate, part of Lone Tree, will be built on the area north of Surrey Ridge and south of Lincoln Ave.
Owners of the property on the corner of Monarch and Castle Pines Parkway, known as CC20, have not made any decisions at this time. The CPN development committee is assembling resident input about this property, which will remain commercially zoned.
Daniel's Park, owned by the City of Denver, is the subject of discussions between Denver and Douglas County. Both sides acknowledge that the intersection of Daniels Park Road and Castle Pines Parkway is a safety hazard.