Mathematical wizardry takes center stage at BRE
June 1, 2018
/
/
Comments Off

on Mathematical wizardry takes center stage at BRE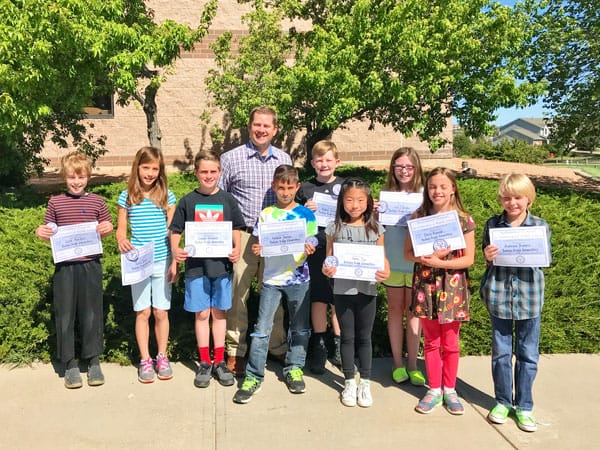 The fourth-graders were not slackers in this year's Math Olympiad. The following are fourth-grade students in the top 50 percent: Luke Houston, Selah Brown, Cooper Hibbett, Kailash Shenoy, Kiefer Duval, Sarah Jun, Lila Obrien, Emily Ruegge and Anderson Romero, pictured with Principal Veit.

By Kathy Fallert; photos courtesy of Lisa Conner
Buffalo Ridge Elementary began its inaugural season competing in Mathematical Olympiads for elementary and middle schools (MOEMS) this year in division E. With a philosophy of building better math students through competitions, MOEMS strives to encourage a love for math while introducing important mathematical concepts and major strategies for problem solving.
Coordinator and BRE gifted and talented teacher, Lisa Conner, remarked, "What we did each week was work on problem-solving skills and competed in a Math Olympiad challenge one time per month in 3rd, 4th and 5th grade. Seventy-eight students participated. Over time, the number of problems the students got correct is how they were ranked, and the top 15 got to come with me to the competition." The other schools participating were Pine Grove Elementary, Redstone Elementary, and Lone Tree Elementary.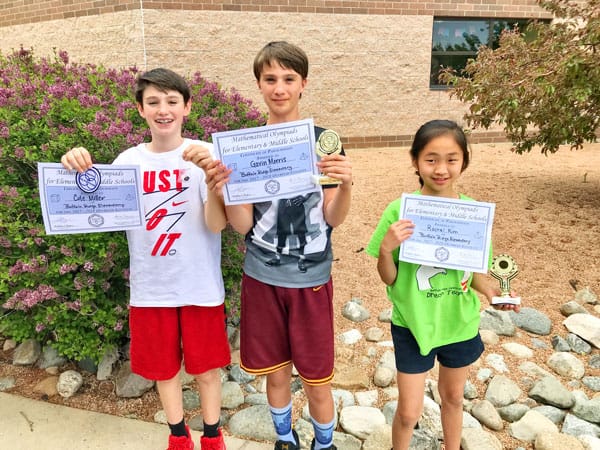 The BRE top three performing Math Olympiad students (pictured from left to right): Cole Miller, Gavin Morris (district winner) and Rachel Kim.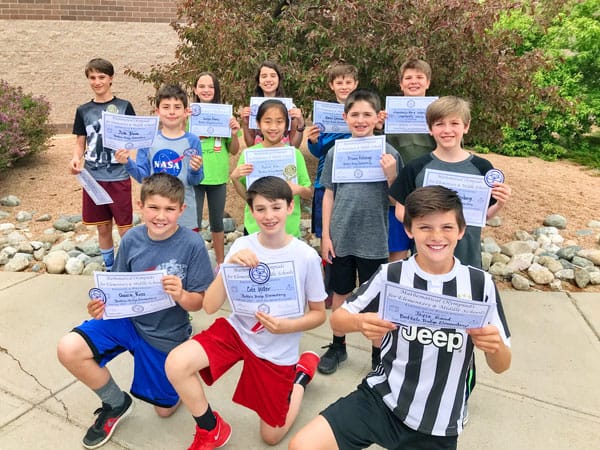 Rising to the challenge, students in the top 50 percent of all students participating in the Math Olympiad last month were (back row): Gavin Morris, Georgia Howey, Milena Andrews, Kasen Lehman, Grant Schneider (middle row) Josh Black, Rachel Kim, Bradon Hutchings, Colton Renberg (front row) Gavin Ross, Cole Miller and Jayse Rand.
The district competition was held on May 3 at Lone Tree Elementary. Two students won trophies and several won pins and patches. BRE came in second place overall, and fifth-grade student Gavin Morris won the elementary district level competition and received a gift card to Barnes & Noble.
Conner commented, "I was very proud of every one of them! Gavin Morris won it all, and there are several others who worked super hard who also deserve recognition, including fifth-grader Rachel Kim and fourth-grader Luke Houston, who both took home trophies."
Morris' mom, Kelly, remarked, "It was such an honor to be able to participate in the program with such amazing kids. I am so proud of Gavin for taking a step out of his comfort zone to compete in this!"