Meet Jack Golden, therapy dog
February 1, 2018
/
/
Comments Off

on Meet Jack Golden, therapy dog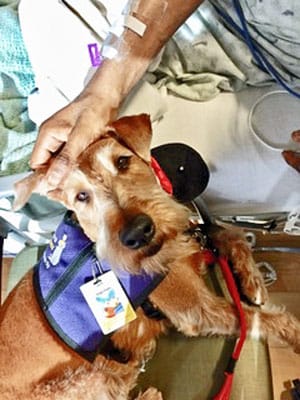 Jack Golden has been a registered therapy dog since 2016. Jack participates in the Bark for Books program at Douglas County Libraries – Castle Pines where children have an opportunity to read to Jack (left), as well as at Castle Rock Adventist Hospital with Angel Paws (above).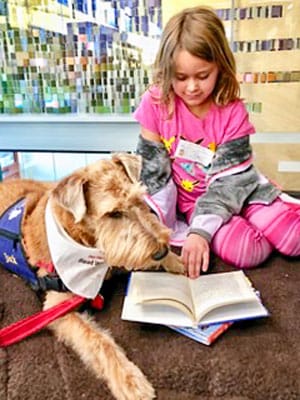 Congratulations to the duo on being chosen Denver Pet Partner (DPP) Team of the Month for March 2018. Teams are awarded this honor based on hours of service and a demonstrated dedication and commitment to the DPP core values through service to the team and the community.
By Lynne Marsala Basche; photos courtesy of Marge Rose Golden
Jack Golden is no ordinary canine. While Jack can be seen walking toward Daniels Park, sniffing around his Pine Ridge neighborhood and frolicking at the dog park, it is just as likely Jack and his mom Marge will be spotted volunteering at Douglas County Libraries – Castle Pines or Soaring Hawk Elementary. Jack has a job as a registered therapy dog, and once his vest goes on, he takes his duties very seriously.
Marge was not looking for another dog after she lost the love of her life Michael, but she suddenly found herself on a plane to Boston to pick up Jack, who was a 12-week old Irish Terrier, and she is positive Michael arranged the whole thing. In 2012, Marge moved to Castle Pines along with her four-legged companions Jack and Charlie to be closer to her daughter and her family.
Jack and Marge became a therapy team through Denver Pet Partners, which was founded in 2001. As part of the process, Jack first had to earn his American Kennel Club (AKC) Canine Good Citizen certificate by attending training sessions, classes and passing a 10-step evaluation test. In 2016, Jack received his AKC Canine Good Citizen medal, and then the team took more classes, completed animal health screenings and passed an evaluation (after a few tries) on February 7, 2016. Almost immediately, they began their registered therapy team work – Animal Assisted Therapy and Animal Assisted Education.
Marge believes in "the healing power of fur," and so do several studies, which note that the simple act of petting animals reduces stress, increases relaxation, provides comfort and lowers blood pressure to name a few benefits. In the case of young readers, therapy dogs become nonjudgmental quiet listeners, which creates a relaxing and fun environment that allows children to overcome barriers or to just feel more comfortable.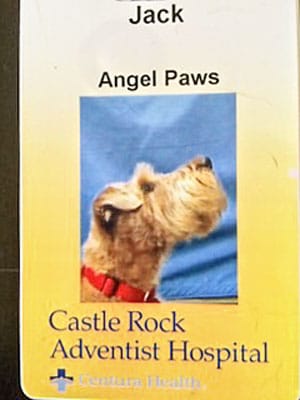 Registered with the Denver Pet Partners Read With Me program, Jack and Marge participate in the Read to Jack program with first graders at Soaring Hawk Elementary and Bark for Books at Douglas County Libraries – Castle Pines where children have an opportunity to read to Jack. Together, the duo has accumulated 182 total service hours since they registered in 2016.
As a retired psychiatric clinical nurse specialist who had the privilege of treating Adult ADHDers, Marge knows that dogs provide structure, and she and 6-year-old Jack have a remarkable relationship. "I think he is the cutest and wittiest dog on earth, all the time, of course, and I absolutely love sharing him," said Marge. With recertification every two years, Denver Pet Partners establishes a safe environment for canines and the humans they assist.
Jack's therapy skills extend beyond books and reading. The duo has also volunteered at the Castle Rock Adventist Hospital with Angel Paws, Denver International Airport during the hectic holiday seasons, and at the United States Air Force Academy.
A personal bookmark from Jack explains, "I'm here – please read to me … and, by the way, do you have any cookies?" If anyone happens to see Jack in the neighborhood, the library or at school, remember the cookie. He deserves it!