What's your APPtitude? Are you an HQtie?
February 1, 2018
/
/
Comments Off

on What's your APPtitude? Are you an HQtie?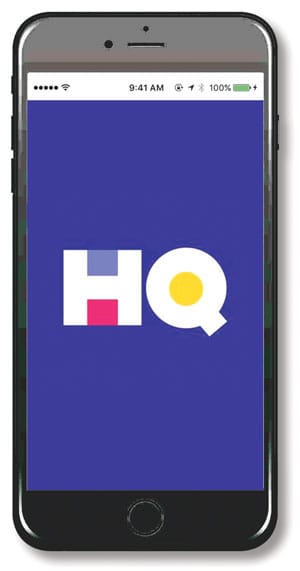 By Amanda Merriman
Over the past few months, if you have been at a large gathering you might have noticed the party coming to a standstill with people suddenly glued to their phones; more so than usual, that is. I recently observed it at my sister's wedding rehearsal dinner party. It is no coincidence that this happened at the same time as the release of an online trivia game called HQ Trivia.
HQ is a live trivia game played on your device. The app is free and can be downloaded by Apple and Android fans alike. Remember how much fun it was testing your memory of obscure facts in restaurants and bars? HQ taps into this appeal and adds more. Fans are called HQties by the host comedian Scott Rogowsky. Rogowsky the "Quiz Daddy" leads players through 12 questions. Fans only have 10 seconds to answer each question, which get progressively more challenging. Players are vying for a cash prize, and they are out of the running with the first missed question. However, players have the opportunity to earn an extra try by sending a friend an invite to play. Payout size depends on how many HQties make it to the end of each game. Hundreds of thousands open the app to compete with each time, so participants should not expect to get rich quick.
I have noticed in times of high traffic HQ gets glitchy. Now mind you I have never come close to winning, but I can understand why this would annoy some users. My family and I have a great time playing in the evenings, usually catching the evening game after dinner. We have only made it as far as the fifth question so far, but with practice maybe someday we will win. In the meantime, we get a kick out of Rogowsky's cheesy humor. Recently, Rogowsky had some time off, and late night host Jimmy Kimmel stepped in to fill his shoes, which we also enjoyed.
Games happen daily at 7 p.m. MST and on weekdays at 1 p.m. MST. Test your HQ mettle today by downloading the app, and if you win, email a picture of your victory face to amerriman@castlepinesconnection.com.