January 1, 2008
/
/
Comments Off

on Meet Your Neighbor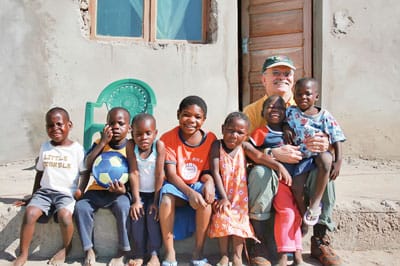 Gary Worth on his visit to the African Orphanage he and his wife, Cathy Fox, have worked for years to build. The compound, called Vukarhani, is in Mozambique and is currently home to 14 children.

by Lisa Crockett
Meet Gary Worth and Cathy Fox
By American standards, the building that has taken years of work does not look like much. Four walls and a roof, bare floors and simple, plain furnishings – basic shelter. For Gary Worth and Cathy Fox, though, the building and the compound it is built on, contain a beauty unmatched by even the most impressive architectural feats.
The idea for the building, which is home to an orphanage in Chokwe, Mozambique, came about when this husband-and-wife team from Castle Pines North (CPN) took a missions trip to Kenya with Cherry Hills Community Church in 2002. There, Worth and Fox were struck by the overwhelming number of children orphaned by AIDS on the African continent – nearly 14 million.
"Although most of these children do not have AIDS, without their parents there is little chance of their survival. There are really no safety nets in Africa," said Fox.
Motivated by what they had seen, and feeling compelled to do something to help, Fox and Worth founded a non-profit organization called "Africans Orphaned by AIDS" and set to work finding ways to send aid across the world.
Not even really knowing where to begin, Worth and Fox contacted Doug Miller, who was working as a missionary for a Cherry Hills outreach ministry in Mozambique. Miller had a good working relationship with an African pastor named Gerald Nondo, who had a strong desire to work with orphans.
"Mozambique hadn't even really been on our radar," said Fox. "They speak Portugese and a native language called Shangana. We had been thinking more about the English-speaking countries. But having that personal connection with Pastor Nondo was what we needed in order to be successful. We needed someone who could help us realize our dream, and we found that person in Mozambique."
With advice from two organizations, World Orphans and Project CURE, Fox and Worth began the fundraising process. Wine tastings and art shows, with goods and services donated by local vendors, got things off the ground. As their efforts took hold and word got out about the project, many people in CPN and surrounding areas came forward to give.
"Most of our donors make small contributions," said Worth. "But every contribution is valuable; just $30 a month can support a child."
As the project has taken root, other groups have found ways to give. The YMCA sold light bulbs to raise money for electricity at the compound, and Richmond American Homes has hosted fundraising cooking demonstrations in their Home Gallery. High School students at both Denver Christian High School and Rock Canyon High School have pitched in to raise both money and awareness.
In August of 2007, Worth traveled to Mozambique with friend Rob Helten, to take stock of the project and meet the beneficiaries of the project first hand for the first time.
"It was amazing to be there, to meet the children and see how their lives are changing," said Worth. "The 14 children who are there are in a loving environment. They get three meals a day, regular baths, a tooth brush – so much more than they've ever had before."
The name of the compound is Vukarhani – a Shangana word that means "hands of compassion." When it reaches full capacity, it will be home to 24 children.
"What we envision is that we will help this orphanage take root, get it established, and then move on to another project. We plan that Vukarhani will be self-sustaining," said Fox. "Right now Vukarhani has a small garden and some livestock. Soon, they will be able to sell some of the things they produce – vegetables, eggs, and perhaps even some well water, in order to produce income."
In the meantime, Fox and Worth are getting to know more about the children who call Vukarhani home. There is four-year-old Julio, who was saved from life-threatening malnutririon. Six-year-old Enoch who was living on his own until Pastor Nondo found him, and five-year-old Juliana, a virtual slave to abusive foster parents before she was rescued. Now, these children are thriving.
"We are at the point in our lives where we have the luxury of following our hearts, rather than just doing things because of economic necessity," said Worth. "I don't want to sound too dramatic, but I really feel that this is our purpose."
For more information about Vukarhani, contact Gary Worth at 303-525-2462 or visit www.AfricansOrphanedbyAIDS.org.
To feature a neighbor in The Connection, please e-mail editor@cpnhoa.org.