Metro District Board Approves Water Conservation Plan
July 1, 2006
/
/
Comments Off

on Metro District Board Approves Water Conservation Plan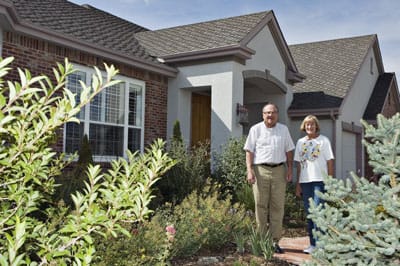 Castle Pines North residents Dave and Sally Warren (above) removed their entire yard of Kentucky Blue Grass at their Hidden Pointe home. The Warrens replaced the lawn with a beautiful Xeriscape design featuring flagstone, river rock, mulch, drought-tolerant plants and evergreens.

by Lane Roberts
Following a public hearing with suggestions from local residents, the Metro District Board of Directors approved a new water conservation plan for Castle Pines North (CPN) on June 19.
The Castle Pines North Metro District (CPNMD) has become the first entity in Colorado to complete an extensive water conservation plan under the Colorado Conservation Board's revised guidelines.
The new conservation plan is part of the integrated water resources plan (IWRP) to help ensure future water supplies for the community. The IWRP has been underway since September, 2005, by Denver engineering firm Camp Dresser Mckee (CDM). CDM will present the final results of the IWRP to residents in late August. (Watch for meeting details through community e-mail.)
While securing renewable surface water is a major part of the IWRP, conservation is another key element of the plan that will assist in reducing the requirements for aquifer
dependent CPN.
Since 2003, the CPNMD has implemented various conservation measures which include a modified four-tiered water rate structure, a water budget, and water restrictions. Water rebate programs for programmable irrigation clocks, low flow toilets, front loading washing machines, tankless hot water heaters and hot water recirculation systems have also been in place for several years.
"While we have reduced our water demands since 2003, it is not possible to determine if this reduction in use is attributable to rainfall or regional drought awareness, so we must do more to conserve," said Metro District Board Treasurer Jonette Brown Eyes. "This new plan expands on our current conservation measures and also challenges us to reduce water use through new conservation programs."
The new conservation plan will add many key components including: expanding the water rebate program, offering indoor and outdoor water "audits" for residents and HOAs, utilizing a sonic leak detection system, implementing a "water wise" program, and many additonal water conserving measures.
At build-out, the Metro District's water demand will be 2,243 acre feet per year (AFY). (An acre-foot of water is the amount of water it takes to cover an acre of land to a depth of one foot and equals 325,851 gallons. One acre-foot provides water for two families for one year.) The goal of the conservation plan is to provide a water savings target of an additional 175 to 230
AFY.
Other goals of the program include targeting outdoor irrigation customers with high water use, reducing irrigation of open space areas, providing assistance to HOAs to reduce irrigated turf areas by 25 percent, and establishing monitioring systems so the effectiveness of each conservation program can be evaluated effectively.
"The success of the conservation plan depends totally on the community and its reponse to saving water," said James McGrady, Metro District Manager. "We are very proud of this plan and hope that residents will begin to alter their behavior and make water conservation a daily part of their lives.
To learn more about the water conservation plan, please call the Metro District at 303-688-8550 or e-mail jmcgrady@cpnmd.org.