Middle School Debate League launches in Douglas County
April 1, 2016
/
/
Comments Off

on Middle School Debate League launches in Douglas County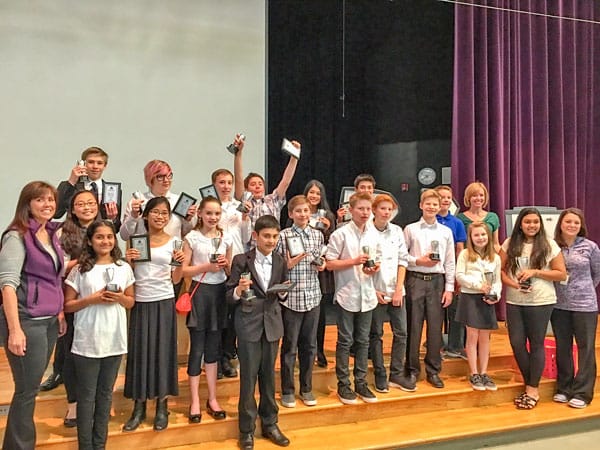 These RHMS students worked diligently to prepare for their first debate tournament this past month. Several students will move on to compete at the national tournament at the end of April.
By RHMS seventh grade student Blake Burnham; photo courtesy of Mary Burnham
If you are tired of watching ill-prepared debaters on national television lately, how about coming to watch actual high-skilled debates? Rocky Heights Middle School (RHMS) launched the first Middle School Public Debate Program (MSDP) and parliamentary debate tournament in Colorado history. Mary Burnham, president of the Douglas County Debate League and a language arts teacher at RHMS, brought this dynamic program to Douglas County. Three schools were represented in the recent tournament: Sagewood Middle School, Castle Rock Middle School, and RHMS.
RHMS language arts teachers Tara Lee and Lynn Legg guided the RHMS team to numerous victories. However, trophies were not as important to the participants as were the newly-formed friendships. Lillya Larson, a seventh grade debater stated, "I really liked seeing the other schools, and it was a great learning experience for me. It was really nice how we could help the less experienced teams."
A parliamentary debate tournament consists of five rounds. There are five topics that a participant has to prepare for. There are two sides to a topic: proposition and opposition, for the topic and against. So, the debater has to prepare two sides for five topics totaling 10 speeches. However, in the tournament, a debater has only 20 minutes to prepare. They may not take a printed speech to the debate.
Not only did RHMS win a multitude of awards, but three RHMS teams will compete at the national tournament at Tulane University, in New Orleans Louisiana, on April 9. The three teams consisted of the following students: Blake Burnham, Shreya Naik, and Ethan Burnham; Rin Wallace, Jacob Aragon, and Alex Smith; and Lillya Larson, Rosa Lee, and Seth Doherty.
In the meantime, if you are ready for a change, forgo the televised debates and watch the next local tournament at Sagewood Middle School on April 23.