Cook's Corner in The Connection
April 1, 2016
/
/
Comments Off

on Cook's Corner in The Connection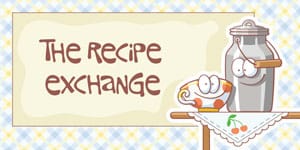 By Lisa Crockett
I love to cook, and I've been lucky enough to share my excitement about food here in The Connection for several years. People sometimes wonder how we choose which recipes to publish, and though the criteria are far from strict, we generally look at a few factors. First, and most important, do the recipes on these pages guide readers in creating something they will want to eat and serve to friends and family? If the answer is no, you will not see it here.
I also consider the difficulty level of recipes and try to include an even mixture of both simple-to-prepare recipes (some salad and fresh-produce recipes are more about assembly and don't require cooking or baking at all) and more difficult dishes. I hardly ever include recipes that require preparation spanning several hours or lots of expert know-how, and if I do I feel pretty confident that the time and effort will be worth it.
For the most part, recipes I gravitate toward do not require specialty shopping for tools or ingredients, and nearly everything I like to cook is fairly budget friendly. I like to eat healthy most of the time so that I can splurge occasionally on some things loaded with fat, sugar, or salt and the recipes I share tend to reflect that balance (though I do confess to having a real penchant for dessert, so sweets may show up on the rotation a bit more frequently than they should.)
I try to cook seasonally at home, and most of the selections you'll find here are based on either traditional favorites for a particular time of year, or what is growing in the fields and readily available at the supermarket or the farmer's market. Much of what I write about are recipes I have made hundreds of times, with consistent results, and are now a part of the fabric of my life. I do experiment with new things too, and if it's tasty, you'll probably read about it here.
Finally, I am proud to say that this column is interactive, and I sometimes have readers catch something I've missed, give feedback for how a recipe could be improved, or simply contact us to let us know they have particularly enjoyed something they have read here in their own kitchen.
My favorite part of writing this column is collaborating with other cooks, testing their recipes, and sharing the enjoyment that results.
If you have questions, comments, or a recipe to share, please let us know at editor@castlepinesconnection.com. For a complete listing of all the recipes we have shared past and present, visit www.castlepinesconnection.com/pages/news/recipe-exchange.