June 1, 2020
/
/
Comments Off

on More than just a tie
By Bryan Goodland; Photo courtesy of Paula Kirkegaard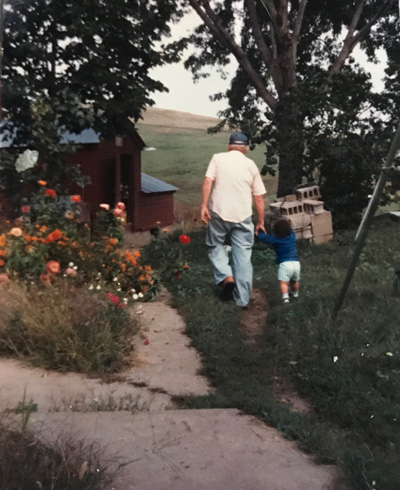 Father's Day is a time to celebrate the man who kissed your skinned knee or cheered your star performance in the grade school production of "Annie." How do you celebrate someone that has done so much?
Here are five very personal gift ideas to consider for your father or the person who fills that role this Father's Day.
Write your dad a letter
Sometimes saying the right thing or telling someone how much you love them doesn't come up in everyday conversation. If that's the case, Father's Day is the perfect time to do just that. Write your dad a letter telling him how much he means to you. Be sure to share some memories from when you were a child and events and moments that made a lasting impact. You can write it, type it, or even hire someone who does calligraphy to make it more elegant. Whatever written medium you choose, it is the content that matters.
Finish that project
Everyone has that one project that just never gets done. Maybe it's organizing the garage, fixing that hole in the wall or some other general maintenance that is always put off until next weekend. Find a project on your dad's list that he doesn't really want to do, but also doesn't want to pay to get done. Hire a reliable professional and take that off his to-do list. He will be grateful for one less responsibility.
Support his hobby
What does your dad truly enjoy doing? Maybe it's woodworking, golfing, creating music, gardening or tinkering on cars. Maybe there is a special tool that he hasn't bought or a part for that car he's working on. You can even look into a club related to his hobby and pay the dues for a membership. The point is to look for something unique that supports his passion.
Give the gift of learning
To further support your dad's passions, purchase a course for him to learn. You can sign him up for an online cooking class, an art class or even a foreign language course for that trip he's always wanted to take.
Create a memory book
Gather some photos of you and your dad throughout the years. Include photos as far back as you can find and some current ones as well. Then with each photo write a memory that you have that transports you back to that moment. Maybe you liked talking with your dad while fishing, or you remember the time he took you out for ice cream. Whatever the moment, be sure to tell the memory from your perspective. Now take the photos and words and put them together in a photo album. You can also look online and create a digital photo album from your social media memories as well.
Whatever you decide to give your dad, make sure it's personal and comes from the heart. If it happens to be a tie, well, that's okay too.