Motivational speaker encourages audience to redefine "able"
June 1, 2017
/
/
Comments Off

on Motivational speaker encourages audience to redefine "able"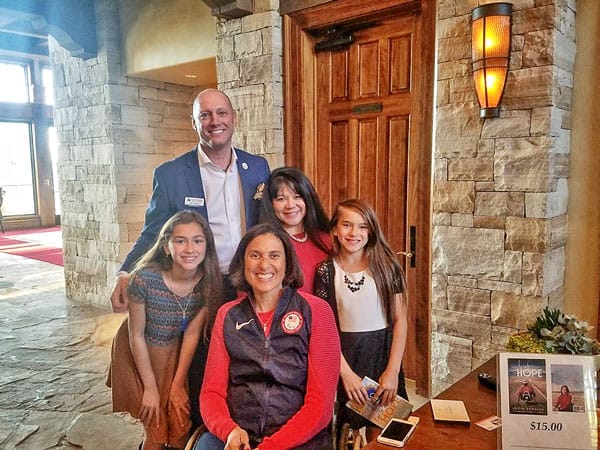 Motivational speaker Tricia Downing (pictured above center with the Douglas family) shared her powerful story of how she went from being a competitive athlete to a paraplegic and then how she learned to find her inner champion. The presentation was held at Sanctuary and hosted by the Castle Pines Chamber of Commerce on May 3 as part of its Engage Speaker Series.

Article and photo by Lynne Marsala Basche
"In five words or less, how do you live your life; what is your personal motto?" Nearly 100 people were asked that question during the 2017 inaugural Castle Pines Chamber Engage Speaker Series with Denver native and motivational speaker Tricia Downing on May 3 at Sanctuary.
Downing was a competitive athlete her entire life. Her drive and competitive spirit pushed her in the gym, in the pool and on a bike. She traveled the country participating in races and always had goals mapped out in advance, including going to the Olympics. Downing's dreams were big, and her mission was clear.
On September 17, 2000, Downing's dreams changed in one moment. While on a bike ride back from Lookout Mountain with a friend, Downing was struck by a driver who was not paying attention. Downing suffered a chest-level spinal cord injury and learned she would never walk again. That night, the life that Downing knew was over.
After spending almost one month in the hospital, Downing transferred to Craig Hospital for three months of rehabilitation. The audience was completely silent as they listened to Downing describe how she had to learn "Life 101" lessons, including how to sit up. While at Craig, Downing's team of therapists also taught her to ride a hand bike, swim and run using a racing chair. Downing had doubts, but she was told to look at her situation as a sport and realize the wheelchair could set her free again. "If you're willing to be creative," Downing explained, "there's always more than one way to achieve a goal."
Speaking to an audience that spanned generations, Downing's words were met with silence, laughter and tears. Sharing with guests to "work hard, do a little more every day, stay patient, and don't give up," Downing explained how she got back into the competitive racing arena and found her inner champion.
"There is a lot to be gained when we listen to other people's stories. They can give us courage, inspiration, hope – but I think the point is that everyone has something of value to teach," said Downing. "I am glad that I can help others think differently about their lives and at the same time offer some awareness of disability and how physical, mental and emotional differences don't make a life not worth living or less important or exciting than others. They simply offer a different canvas for our experiences."
"Work hard, do a little more every day, stay patient and don't give up …"

The Castle Pines Chamber speaker series is designed to engage the community with a variety of speakers on different topics. Membership Director Amy Shanahan said, "Tricia was someone that we felt had a message that appealed to so many – about overcoming obstacles and being our absolute best."
The audience learned Downing's answer to her opening question during the session. It was "Always believe you can," and she lives that belief. What is your personal motto?