Neighborhood Watch programs are an effective way to deter crime
June 1, 2017
/
/
Comments Off

on Neighborhood Watch programs are an effective way to deter crime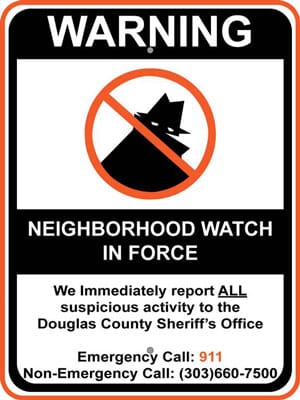 By Lynne Marsala Basche
As reported by the Douglas County Sheriff's Office (DCSO), Castle Pines has seen a spike in "opportunistic crimes." As the name indicates, opportunist crimes occur when a criminal sees a chance to commit a crime and acts upon it. One of the best ways to prevent these types of crimes is to form a Neighborhood Watch program.
Neighborhood Watch programs began in California in the 1970s and are organized groups of residents working together toward preventing crime in their areas. Currently, there are between three and ten groups throughout Castle Pines.
There is no minimum number of people needed to form a neighborhood watch group, and while anyone can participate and there is no approval process, groups are encouraged to contact the DCSO to get started. The DCSO works with neighborhood watch groups to detail the start-up process, explain basic crime prevention, describe how to be a good witness, and discuss what is involved in making residences less likely targets. One person in each group is designated as the "neighborhood watch captain" and is the liaison between the DCSO and the group.
"Neighborhood watch is still the number one most effective crime prevention program today," said Public Information Officer Lauren LeKander. "However, modern neighborhood culture has changed. Most people do not socialize with their neighbors as they used to. Families typically pull into their garage, shut the garage door and go into their house without making any regular contact with their neighbors. If we could change this trend, get neighbors to be neighborly and look out for one another, we could be more effective with neighborhood watch."
The DCSO encourages residents to work together to protect themselves, each other and their neighborhoods. Citizens should report crimes, big or small, as well as any suspicious activity to the DCSO. LeKander noted that in some cases a resident might unknowingly have a piece of evidence, such as video surveillance footage or discarded items on their property. Interested in creating a Neighborhood Watch group? Contact Deputy Jason Blanchard at 303-660-7510 to get started.
Read more about opportunist crimes, including what residents can do to help, in the May issue of The Connection.