Helping Africans while transforming Americans
June 1, 2017
/
/
Comments Off

on Helping Africans while transforming Americans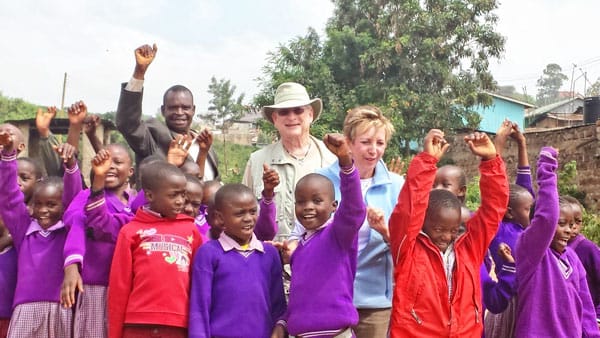 Pictured with an enthusiastic group of Soweto Academy students are the school's founder Chris Okuma (left) with Castle Pines Village residents Armistead Browning and Geil Browning (center). The Brownings raised more than $700,000 to build safe dormitory housing for teenage girls attending the Soweto Academy which will be completed this month in Kibera.
By Kathy Fallert; photo courtesy of Geil Browning
Twenty-five year Castle Pines Village residents Armistead and Geil Browning will be taking a trip to Africa next month. This trip will be the culmination of a two-and-a-half-year effort to bring a girl's dormitory to the Soweto Academy, a private school in the heart of the Kibera slums in Nairobi, Kenya. The Brownings raised more than $720,000 for the dorm's construction, which broke ground in October of last year.
The Brownings traveled to Nairobi seven times before taking friends and colleagues along to help volunteer and connect with African children, many of whom are HIV positive, in a compassionate way. Since 1999, the Brownings have brought 101 people, some going more than once. July will be the ribbon cutting at the dormitory, and for the first time, the Brownings will bring along five of their grandkids, two of whom are Castle Pines residents.
The nonprofit organization the Brownings founded in 2016 is called the Kibera Girls Education Fund (KGEF), and it was initiated to protect and elevate the lives of girls in Kibera, which is one of the largest and poorest slums in Africa, by providing safe housing. Teenage girls in Kibera are exposed to sexual assault and pregnancy in their current living situation of overcrowded and unsafe dorm conditions. The new dormitory will bring safety and hope that these educated young women will become the next generation of change.
The founder of Soweto Academy, Chris Okuma, has a philosophy: "When you educate the women, you educate a society." While this is the first project to be completed by KGEF, the Brownings have been involved in other projects in Kenya for the past 15 years, and this has truly become their passion. Geil Browning is also on the board of the Kenyan Children's Foundation, a nonprofit organization that has built a children's home, a school, and has helped many other institutions in Kenya.
"We are not missionaries," Geil explained. "It's our personal mission to make a difference in the lives of Americans. I believe out of the 101 people who went with us, 97 percent would say their lives were transformed and they were deeply impacted by the experience. In fact, 60 percent of them have returned to Kenya."
To find out more about KGEF or to make a donation, visit www.kgefund.com.