Mountain biking; an individual-team sport
September 1, 2017
/
/
Comments Off

on Mountain biking; an individual-team sport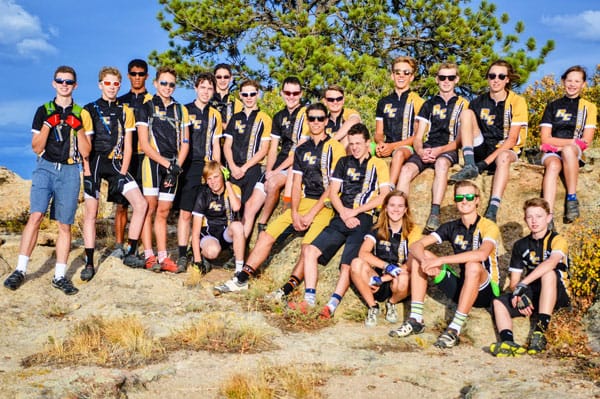 The RCHS mountain biking team became an official club sport last year, allowing players to earn a varsity letter. Along with neighboring high school teams, RCHS is part of the Highlands Ranch Cycling team, which creates a level of camaraderie often not seen in competitive sports. (Photo courtesy of Daniel Deschane)

By Lisa Nicklanovich; courtesy photos
High school mountain biking is one of America's fastest growing sports, and the Rock Canyon High School (RCHS) mountain biking team can tell you why. Participation in the sport locally has grown exponentially, and last year mountain biking became an official club sport at RCHS, allowing athletes to earn a varsity letter.
Casey Shuster, a senior at RCHS and Hidden Pointe resident explained, "Mountain biking is not your usual sport where there are two teams and everyone is cheering against someone else. There is true camaraderie at all the races. Every time you come through the finish line, people are cheering for you, and it doesn't matter which school you came from. It is an inviting and unique atmosphere to be in."
The RCHS team is part of a larger composite team, Highlands Ranch Cycling (HRC), which includes teams from neighboring high schools. Each school scores individually at races, but the composite team practices together and they share coaches and volunteers.
Hallie Farmer, a sophomore at RCHS and Castle Pines resident said, "When you are racing individually, you don't think of it as a team sport, but it really is. You are on this team with 70 people and every person matters and they contribute to the team. No matter your skill level, everyone has value and can contribute points, which separates our sport from every other sport."
In mountain biking, everyone participates and no one rides the bench. Everyone races for her- or himself, but as Kennedy Scott of Castle Pines added, "If you pass one of your teammates, you still cheer for them, even though no one else is around."
HRC practices on the Highlands Ranch backcountry trails, and the teams give back through trail maintenance and trail build days. In addition to community service, the teams refurbish donated bikes through Project Recycle, and then the bikes go to kids who need them. HRC athletes are expected to give back to the sport, be good citizens, have good manners on the trail and have good sportsmanship not only at races but also at practices.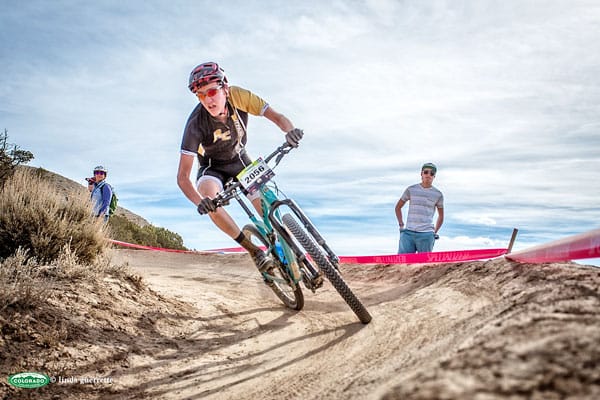 Casey Shuster, a senior at RCHS and Hidden Pointe resident, at the state championships in Eagle, Colorado last year. (Photo courtesy of Linda Guerrette)
Shuster, Farmer and Scott proudly wear the battle scars of mountain biking; skinned knees and elbows, bandages and bad tan lines. The girls found their gnarled knees especially funny when they were dressed up for homecoming; clearly, they are passionate about continuing to race. Shuster added, "You have to ride on the edge of stupidity and try not to go over, but if you're not going over, then you're not testing your skills."
For more information, photos and/or to donate, visit www.hrcycling.org, www.rchsjags.com (club sports tab/mountain biking) and www.coloradomtb.org.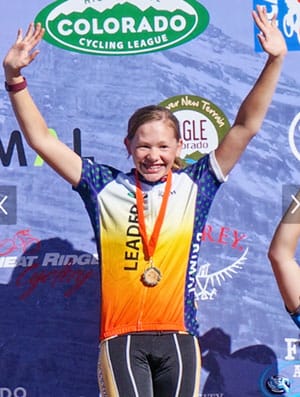 Kennedy Scott, sophomore at RCHS and Castle Pines resident proudly wearing the leader jersey she earned coming in first place at a race in Leadville, Colorado. (Photo courtesy of Sean Scott)