Mutton bustin' brings impressive win
February 1, 2017
/
/
Comments Off

on Mutton bustin' brings impressive win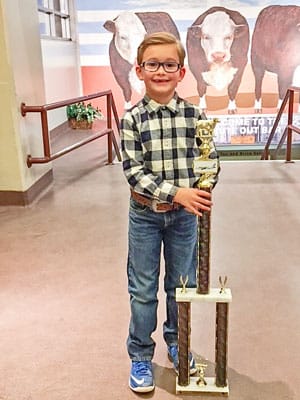 Seven-year-old Connor Wolff stood proudly displaying the trophy he won last month for riding a sheep for 12 seconds at the National Western Stock Show.

By Lynne Marsala Basche; photos courtesy of Rachelle Wolff
Seven-year-old Castle Pines resident Connor Wolff made his mutton busting debut at this year's National Western Stock Show. The Timber Trail Elementary first grader rode with such determination that he was the only rider to stay on the sheep for the length of the arena and had to be pulled off at the end of the race. With a score of 90, all Connor could say was, "That sheep was so fast!"
Mutton busting is an event that originated at the National Western Stock Show (NWSS) in Colorado in the 1980s and is now commonplace at many local rodeos across the country.
Mutton busters must be between the ages of five and seven and weigh less than 55 pounds to prevent the sheep from getting injured. The children wear protective gear and trained staff members are nearby to help after the children have fallen off the sheep. Judges rate the performances and give a score.
At the NWSS, every participant receives an impressive trophy that often rivals the height of the mutton buster. The goal of these events is to provide a fun and positive experience to the children who participate. For more information on mutton busting at the National Western Stock Show, visit nationalwestern.com.