Hit the trails with the Castle Pines Run Club
February 1, 2017
/
/
Comments Off

on Hit the trails with the Castle Pines Run Club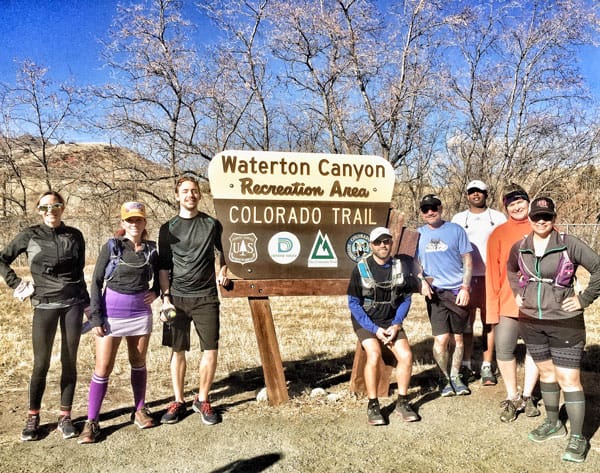 Members of the Castle Pines Run Club rang in the New Year with a destination run at Waterton Canyon on January 1. The sun was out, and spirits were high as members of the group ran either 14, 10 or 6 miles.
By Lynne Marsala Basche; photos courtesy of Ashley Oxton
While some spent New Year's Day sleeping in, 12 participants of the Castle Pines Run Club celebrated the start of 2017 with a morning run in Waterton Canyon. Club organizer Ashley Oxton joked, "We started at 11 a.m. to allow for some recovery time for those who stayed up until the midnight hour!"
Out of the 12 participants, several ran the full 14 miles, which is seven miles to the top of the dam and back. A few runners ran 10 miles, and the rest ran six miles during the Waterton run. The staggered miles reinforces Oxton's goal with the run club, which is to bring the Castle Pines running community together no matter their abilities.
Since the club began last April, on average 10 to 12 runners participate in the weekly Wednesday runs. Runners of all abilities join in the fun with looped routes that allow for a three-mile run up to an almost seven-mile run. The group also incorporates a run/walk regimen throughout some of the hilly Castle Pines terrain. Not only are all skill levels welcome, but all ages are encouraged, as well, including kids as long as they are comfortable with the distance and running.
"The men and women of the Castle Pines Run Club are inspirational runners, and our run club consists of beginner, intermediate and advanced runners," said participant Solise Anderson. "If we run in Castle Pines or have a destination run, we always encourage each other to run our best. No matter your pace or mileage, everyone is supportive."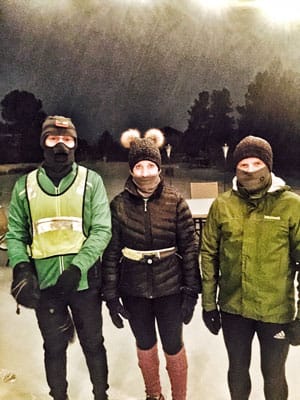 Runners traverse the three-mile golf cart path at The Ridge in two degree weather, complete with blowing snow, and Oxton said, "It was fun!"

From January through March, runners meet at 5:30 p.m. at The Ridge at Castle Pines and run the golf course path as part of an agreement with the Ridge. To celebrate a run well done, runners enjoy post-run social time at the Ridge's Park Place restaurant.
"My favorite part about how this group has evolved is seeing the camaraderie and genuine interest, not only for running, but in sharing our love of running with like-minded people," said Oxton. "It's about setting goals and accomplishing them, being healthy and active, and discovering more about ourselves and what we are capable of."
The club also has regular destination runs to places such as Dawson's Butte, Castlewood Canyon and to Waterton Canyon for the New Year's run. Future runs along the Front Range include Deer Creek Park, Bear Creek Park, Green Mountain and others.
Lace up those sneakers, and grab a hat because the cold weather is no reason to stop running! Contact info@discoveryrunning.com with any questions.