Neighborhood Directories coming soon!
August 1, 2009
/
/
Comments Off

on Neighborhood Directories coming soon!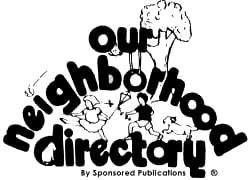 by Terri Wiebold
Sponsored Publications, publisher of Castle Pines North's "Our Neighborhood Directory," as well as the Castle Pines Village Homes Association Directory, recently completed updates and corrections for the 2009-2010 editions, to be published in August 2009 and distributed in early September…be sure to watch for it!
"The difference between a group of like-value homes and a real neighborhood is the degree to which neighbors are connected and in touch with each other," says Sponsored Publications publisher, Patricia KC Anthone. "It's very gratifying to work on an annual program that facilitates that connection."
The directories contain a plethora of information about the Castle Pines community, including community government resources, neighborhood helpers, a guide to local services, information about your local community newspaper The Castle Pines Connection, and the ever-popular resident roster.
Resident information for the directories is researched and compiled by Sponsored Publications Inc. from public sources such as County records and phone company listings, and from resident submissions. As always, NO resident information is provided by local Homes/Homeowner Associations.
Previous directory listings were carried over to the new directory unless you notified the publisher of a change. The publisher takes every reasonable effort to ensure accuracy and completeness of the information, but changes such as divorce, birth, and death are not monitored or updated by the publisher.
Please note that one directory is mailed to each residence, and no additional copies are available. The directory is produced expressly for the use of you and your neighbors, and copies of this book are not distributed and are not available outside the neighborhood served and the book sponsorship.
If you have a change to report or if you wish to be removed from future issues of the directory, please notify Sponsored Publications directly:
Sponsored Publications
6297 E. Mineral Place
Centennial, CO 80112
303-726-2034
Contact by e-mail