Neighborhood Junior Girl Scout troop learns about water
December 1, 2009
/
/
Comments Off

on Neighborhood Junior Girl Scout troop learns about water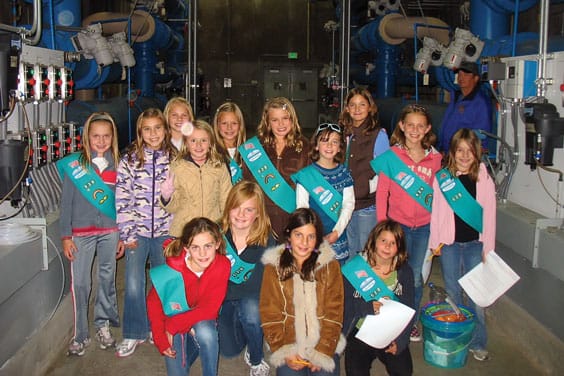 Front row kneeling (left to right): Lea McCaffrey, Ashley Owens, Maria Pangalos, Lizzie Brankin. Back row standing (left to right): Avery Tisdale, Elizabeth Curtright, Hannah Repka, Megan Baer, Kaity Rimer, Julia Loomis, Megan Criley, Gabrielle Garcia, Rebecca Teeter, Jackie Fisch. Not pictured, Chelsea Gause.

Article and photos submitted by Shawn Hulsier
In an effort to expore the origins of Castle Pines North (CPN) water, Junior Troop 628 from Buffalo Ridge Elementary School joined forces with WARP (Water Awareness Responsibility Program) to learn about surface and ground water and to participate in hands-on activities such as "Basin in a Bottle," ultimately earning their Water Wise badge.
The girls discussed water conservation strategies and why they are so important. They also learned about the importance of protecting our surface waterways.
Of surprise to some was the fact that storm drains, which collect water from the curb and gutters, also collect oil, grease, debris, cigarette butts, yard waste and other pollutants and that this mixture flows directly to the nearest stream or lake. They were given real-world examples of why this is harmful; One quart of oil can cause a slick the size of two football fields. The girls were shocked to learn that this water does not go to the treatment plants to get cleaned before entering our fish and wildlife habitats.
At the end of the training, WARP presented the Scouts with pet gold fish to remind them of the importance of keeping our waterways healthy.
The Troop also toured the Ray Waterman Water Treatment Facility (pictured above) where they saw how the water that is delivered to their homes is pulled from wells in the Denver Basin Aquifer and treated before making its way to their taps.
Finally, WARP worked with Charlie Fagan, Parks and Open Space Director from the CPNMD to obtain storm water drain medallions which say, "No Dumping, Water Drains to the Creek."
The scouts divided the jobs – sweeper, sticker placer and pounder and dads read the maps. In total, Troop 628 placed 80 storm drain medallions in the area (pictured below is dad Dave Loomis helping label storm drains with the blue medallions.)
"This really was a great project which WARP was delighted to organize and deliver," said WARP director, Shawn Hulsizer. "The girls learned so much and made a true contribution to the community and learned much about this most precious resource, water."