Neighbors join to gather backpacks for kids in need
August 1, 2009
/
/
Comments Off

on Neighbors join to gather backpacks for kids in need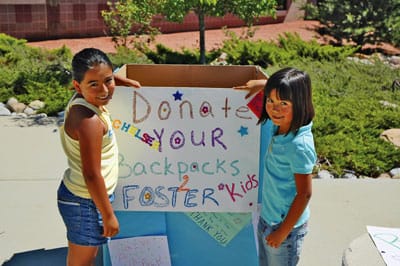 by Lisa Crockett
Being in foster care means a lot of things. First, it means that something has gone awry in your family life. Second, it means that you probably don't have much in the way of earthly possessions. Third, it likely means you'll be moving from place to place without a good way to move even those meager possessions.
Enter Castle Pines North (CPN) resident Theresa Morris, who serves as a volunteer at the Denver Department of Human Services.
"When I am there to volunteer, my heart really goes out to the people I see. I began to wonder what I could do to help. I found out that many foster kids carry their clothing and other belongings in a garbage bag or a Wal-Mart bag when they move to a new home," said Morris.
On hearing that, Morris thought of the many bags and backpacks sitting idle in closets at her home.
"Often times I buy my children a new backpack for a new school year, even though the one from last year is still perfectly good. I decided to see if others wanted to join me in 'recycling' some of the bags we have around the house."
So Morris solicited donations from students at Buffalo Ridge Elementary and Rocky Heights Middle School. At the conclusion of her drive, she had collected more than 300 new and used duffle bags and backpacks.
Nine-year-old Clarissa Solis (pictured above), who is a student at Timber Trail Elementary, heard about the project through big brother Zak, who is a student at Rocky Heights.
"I decided I wanted to do something to help, so I set a goal to collect 1,000 new or gently used bags," said Clarissa.
She has enlisted the help of younger sister Miah (pictured right), and plans to collect bags at her school until she reaches her goal.
"When I heard about this project, I knew it would be good for Clarissa," said her mom, Ninfa Cabello. "She is pretty emotional, but I have explained to her that being sad doesn't help, taking action does. This is something she can do."
For her part, Clarissa seems confident she can reach her goal. "These kids are the same as me, they just need a little help," she said.
For more information on donating bags and backpacks to The Denver Department of Human Services, e-mail Theresa Morris at Contact by e-mail or visit the DDHS website at www.denvergov.org, go to the Human Services page, and click on "how you can help." Bags are collected as part of the "school supplies drive."