Kids have a ball playing at home in CPN
August 1, 2009
/
/
Comments Off

on Kids have a ball playing at home in CPN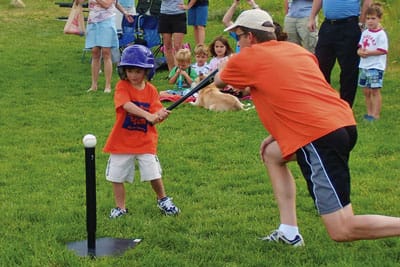 by Carin R. Kirkegaard
Castle Pines Athletics had its inaugural summer season of t-ball and baseball practicing and playing games on the local parks in the Castle Pines community.
With 20 teams filled with local Castle Pines children, ages four to eight, Castle Pines residents were able to play at home this summer, and the kids had a ball.
The baseball program at Castle Pines Athletics is a recreational program that was designed for beginners. With a strong focus on basic fundamentals of the game, as well as sportsmanship, the teams were lead by parent volunteer coaches.
"Our volunteer coaches have been amazing and this program would not be possible without the many moms and dads of this community that step up and lead our children," said Lane Roberts, director of Castle Pines Athletics.
The programs offered by Castle Pines Athletics are sponsored in part by many local businesses in and around the Castle Pines community. Castle Pines Athletics would like to extend a thank you to Dr. Andrew Dunbar of Castle Pines Orthodontics for sponsoring the t-ball and baseball program.
"Dr. Dunbar is so supportive of not only Castle Pines Athletics, but of anything going on in our community and we are so grateful to him for his contributions to CPN," said Roberts.
In addition to Dunbar, the efforts of Charlie Fagan and the CPN Metro District were instrumental in coordinating field times for Castle Pines Athletics. A special thanks to all.