New birdhouse business for retired marketing rep
August 1, 2010
/
/
Comments Off

on New birdhouse business for retired marketing rep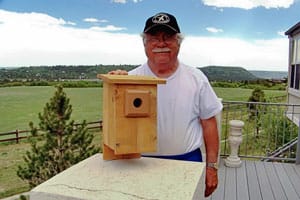 Castle Pines Village resident Jim Hanrahan displays one of his hand-made Bluebird houses.
by Elizabeth Wood West with photos provided by courtesy of Barbara Hanrahan
All it took was attending a community wildlife committee meeting for longtime Colorado and Castle Pines Village resident Jim Hanrahan to become hooked on building Northern Flicker and Bluebird houses.
"Part of the discussion [at the meeting] centered around birdhouses. One of the ladies emailed me Flicker and Bluebird house plans, and I have been doing them for six months now. I enjoy the creative outlet of making them and watching the habitat of the different species," Hanrahan explained. He is considering adding other bird species' birdhouses and bat houses to his inventory.
Hanrahan was a marketing representative for thirty-five years working for BASF, a German chemical company that made printing inks for large national manufacturers' product labeling. Now he is a sole proprietor for his "Birdhouses by Jim Hanrahan" business.
Hanrahan's Northern Flicker and Bluebird houses are made of cedar wood. "I like to use cedar wood because it doesn't rot easily and looks rustic," said Hanrahan. He recently built a birdhouse out of mahogany wood scraps donated by a friend; he was so pleased with the wood's hardness, durability, and clean edges when cut that he wants to continue using it as an alternative material and look for the birdhouses.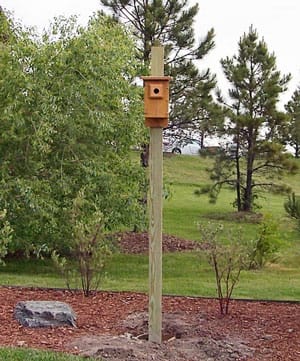 Bluebird and Northern Flicker birdhouses are made to order, with or without paint and/or decoration. Photo courtesy of Barbara Hanrahan.
"Some people like the birdhouses painted and others like them without decoration. I can build and customize them as people choose," Hanrahan said. Each birdhouse takes about two to three hours to build, and are built to Audubon Society specifications.
Hanrahan's hand-made birdhouses are available for sale to the public, including small custom orders and/or large orders (volume discount available). He encourages HOA's and other similar organizations to purchase his birdhouses and make them available to their members. "Bird houses provide homes for our feathered friends, and are great as gifts for family and friends," said Hanrahan.
To purchase birdhouses or for further information, please contact Jim Hanrahan at 6243 Mt. Sneffels Place, Castle Rock, CO 80108, 303-771-5287 or e-mail.