New year, new beginnings as the Dizmang family adopts
January 1, 2017
/
/
Comments Off

on New year, new beginnings as the Dizmang family adopts
The Dizmang family holiday portrait last month was complete with the addition of soon-to-be-adopted Samuel.


By Kay Bryant; photos courtesy of the Dizmang family
The Dizmangs' story began in 2008, when MeiLon and Michael Dizmang were married. The Dizmangs have been 80108 residents for more than eight years. This blended family of eight was already bursting with blessings, yet MeiLon and Michael knew they wanted to add another child to their new family.
As a Christian family, the couple prayed for signs to determine whether adoption would be the right path. With their hearts wide open and their faith strong, the Dizmangs knew they were on to something big as the signs began to unfold.
It did not take long before they felt directed to Uganda. They knew nothing about the country, the people or the long road that would be ahead. They found an adoption agency in Centennial, and after months of waiting, they found Samuel on the agency's website from a list of children with disabilities. Later through medical exams, they learned Samuel may have scoliosis. He finds standing and walking difficult and often uses a wheelchair. Samuel had been abandoned by his biological family and was found by the orphanage. Although the orphanage was a home for babies through five years of age, Samuel was allowed to stay due to licensing issues.
The Dizmangs knew immediately based on his name, his bright inquisitive eyes, and beautiful smile that Samuel would become family. Their agency began working with the Ugandan adoption service right away.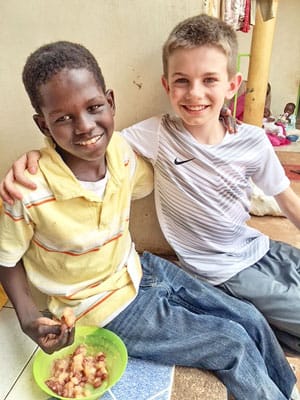 Samuel and Sam (young brothers meet for the first time at Ugandan orphanage).

Uganda does not have a governing authority system to oversee adoptions. The process is difficult and unpredictable. The Dizmangs' first trip to Uganda was to meet with adoption services, to meet Samuel, and to learn whether they would be a good fit. The second trip entailed court dates, sharing information about family, home and financial abilities, along with spending time with Samuel. The third and final trip involved more court dates, and the U.S. Embassy required a DNA test to prove parent/child identities, and finally, the long awaited adoption approval.
On October 8, the Dizmangs brought Samuel home. The process has taken two years so far and in April 2017, they plan to close the adoption process, making Samuel Zion Dizmang their legal son. It was evident the Dizmang family is completely in love with Samuel, as he is with them. The Dizmangs shared that his sincere demonstrations of love toward them outshine words.
Samuel begins physical therapy in January, and the Dizmangs are hopeful he will soon be able to walk on his own, expecting a full recovery. Samuel currently speaks about 80 percent English. He recently experienced his first snowfall, and the entire family anticipated a special Christmas this year, each counting one more blessing!

Hearts wide open, the Dizmang family expands through Ugandan adoption.