Oh, give me a home… New park in CPN earns its name
January 1, 2010
/
/
Comments Off

on Oh, give me a home… New park in CPN earns its name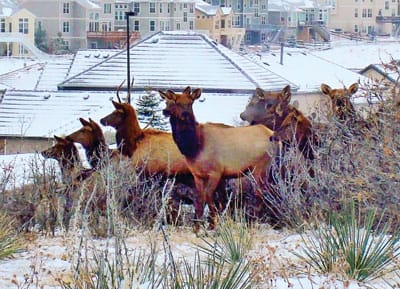 Article by Anthonette Klinkerman and photo provided by Serena resident Tyson Jones
Where the buffalo – no, make that elk – roam… If there is one thing Castle Pines North (CPN) does not have a shortage of, it is wildlife. From deer to red fox, wild birds, the occasional mountain lion and coyotes, CPN residents often enjoy catching a glimpse of one or more species from their windows.
When it came to naming the newest park in CPN, more than one person came to the conclusion that the park should be named after the most majestic of local creatures, the elk.
And as if on cue, a large herd of elk decided to hang around the area to prove the name of the newest park in the city is fitting.
Located off Lagae Road, the planned park is now officially named Elk Ridge Park. CPN resident Beth Stewart made the winning name suggestion among the 50 or so the Parks Authority received. Another submission coming in a close second place was Wapiti Park, which is the Native American word for "elk", coincidentally.
"This now gives the park more of an identity, especially when it comes to the actual design which is just being started," stated Parks Authority President Anna Mallinson.
According to Mallinson, the Park's Authority is on schedule for construction to begin in Spring 2010. Mallinson reports there have been some slight changes in the design from the original concept plan. Several berms have been relocated; the field will be lower than originally planned; one of the parking lots has been increased to give a few more spaces, although it still may be an issue; and best of all, there are slopes for sledding!
"We will incorporate elk in the park design, and the overall concept of discovery and exploration based upon various aspects of Colorado, from the rivers to the mesas and plains," said Mallinson.
The migrating elk and other creatures, as well as the two-legged ones, are all set to enjoy the coming addition of Elk Ridge Park to Castle Pines North.