"Old Glory" to Bring Better Reception to CPN
April 1, 2006
/
/
Comments Off

on "Old Glory" to Bring Better Reception to CPN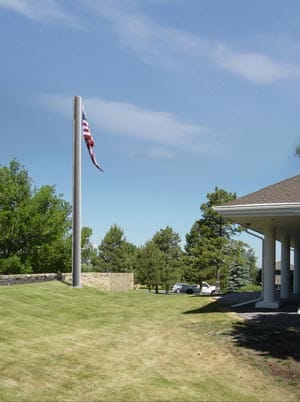 by Terri Wiebold
In the February-March issue of The Connection, plans for a new T-Mobile cellular tower were brought to the public's attention. Plans had been in the works for this additional coverage site for quite some time, but the logistics of the design – although decided – were not exactly what the Castle Pines North (CPN) community wanted.
Following the combined efforts of the Castle Pines North Master Association and the Castle Pines North Metro District, plans for the cellular tower have been amended once again to better suit the style and design guidelines for this community.
No longer will there be a Monopine structure on the Metro District property (located on the corner of Castle Pines Parkway and Yorkshire Drive), but a 45-foot flagpole will stand in its place. This was the original plan voted on by the Metro District but one that the County initially would not approve. The County has since reconsidered its position, and Senior Planner for the Douglas County Planning and Community Development Department, Mikel Whitney, was instrumental in the decision to approve the flagpole design.
"We greatly appreciate the County's willingness to consider the desires of the community in this decision," said Maureen Shul, President of the Master Association. "We could not have moved forward with this design without the support of their office."
Special thanks to Alison Gibbens and Maureen Shul from the Master Association, and Mark Shively from the Metro District for their efforts in making this change happen.
Despite the minor delay, T-Mobile anticipates construction of the new flag pole to begin in early May. Watch for further updates on the progress of the flagpole at cpnhoa.org.