On pine beetles and fire mitigation
October 1, 2013
/
/
Comments Off

on On pine beetles and fire mitigation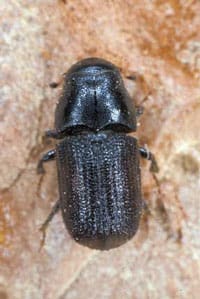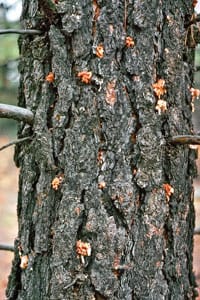 Magnified view of an adult Mountain Pine Beetle – actual size of an adult is around the size of a grain of rice.
"Pitch tubes" – the telltale sign of beetles, usually on the lower 25'of a tree trunk.
by Joe Gschwendtner with photos provided by the Colorado State Forest Service
Castle Pines residents enjoy spectacular Rocky Mountain views and majestic Ponderosa pines, making homeowner landscapes special. Yet recent headlines remind us of Colorado's dry heat and erratic rainfall and the unsustainability of our paradise without conscientious stewardship efforts by all. Quietly and capably overseeing these community efforts are Jack Hummel of the Forest Stewardship Committee of Castle Pines Village and David Anderson of Castle Pines North Metro District.
Historically, pine beetles have been our most visible threat. Whether in trees on rights-of-way, golf courses or in wooded areas, an estimated $75,000 will be spent this year to control the beetles. Both communities also retain arborists/foresters who advise on issues critical to a healthy ecosystem.
There is good news on the beetle front; the beetles are on the run. As proof, Jack Hummel produced his inventory of Village trees under attack from pine beetles in Castle Pines Village. At the height of infestation in 2011, 130 trees were infested with the mountain pine beetle. Through yearly spraying of the trees and removal of beetle-infested trees before the insects fly, the impact of the beetle has been significantly reduced.
Times and focuses have changed. The scent of Waldo Canyon and Black Forest fires is not far away. Hummel and Anderson remain uneasy about fire mitigation. Many sub-associations and community residents have not yet acted aggressively to reduce fire risk on their property.
Both Hummel and Anderson agree that local governance must do a much better job of outreach — educating and engaging its residents on proactive mitigation measures.
Far too many pine branches overhang residential homes. Pine needles dropping into gutters provide instant fuel to a rampaging fire. Trees near windows are also dangerous, offering an immediate path to home interiors. On many properties, leaves and deadwood beneath Gambel oaks are fuel stock, allowing a fire to spread rapidly.
Both Hummel and Anderson were crystal clear in their warnings. Fire is endemic to Colorado. Retaining the natural charm of our communities demands that every measure possible be taken to prepare and protect against its spread.
If you have questions about your own fire mitigation plan or how to implement one, please use one of the connections listed below. All advice provided, including home assessments, is a public service.
Castle Pines Village Design Review Committee: 303-814-1345, Dave Cooper or Bill Howell
Castle Pines North Metropolitan District: 303-242-3265, David Anderson
South Metro Fire District: 720-989-2273, Einar Jensen contact by e-mail at einar.jensen@southmetro.org.