Operation Bright Star delivers Thanksgiving
December 1, 2010
/
/
Comments Off

on Operation Bright Star delivers Thanksgiving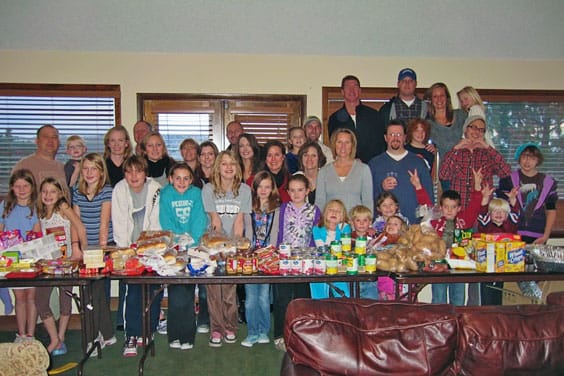 Operation Bright Star prepares to start the assembly line of filling boxes to create a Thanksgiving feast for those in need. This year the group was able to prepare 29 meals that were delivered to those who probably wouldn't have otherwise had a Thanksgiving meal.
Article and photos by Carin R. Kirkegaard
Operation Bright Star delivers Thanksgiving to the Women's Crisis and Family Outreach Center in Castle Rock
Operation Bright Star, a group of neighbors and friends in the Castle Pines community, once again joined forces and gathered food and helped create a Thanksgiving feast for 28 families at the Castle Rock Women's Crisis and Family Outreach Center in Castle Rock.
This is the second year the group has put together Thanksgiving dinners to help those in need during the holiday season. Castle Pines resident Steve Robinson came up with the idea while working out at the gym with a friend who was organizing neighbors to help families in need. Robinson's only criterion for helping was to find an organization that would allow small children to participate. In his search, he discovered these charities were few and far between, so he decided to create his own; Operation Bright Star was born.
Around the Thanksgiving holiday, Robinson gets donations to create an entire Thanksgiving feast. The feast includes cranberry sauce, various vegetables, dinner rolls, packages of gravy, cookies, crackers, potatoes, stuffing, an aluminum roaster pan, a turkey, a $10 gift card from a local grocery store for things like milk and butter, and the personal touch of a handmade Thanksgiving card from Operation Bright Star.
The group then meets and has a party to assemble the goods. Families come with potluck dishes and line up tables to form an assembly line. The children work on cards while others load up the boxes and, at the end, someone is checking for quality control to make sure no box missed a bag of potatoes or the cranberry sauce. At the close of the night, the group has an opportunity for fellowship with neighbors and friends. This year, 29 families were given a Thanksgiving feast. While the Women's Crisis Center received 28 meals, a family in need at one of the participant's church received one of the meals.
Robinson would like to extend a heartfelt thank you to those who helped with Operation Bright Star this year, including Girl Scout Troops 881, 628, 1891, 2097 and 497 as well as friends and neighbors from Castle Pines HOA1, HOA2, Castle Pines Village, and Founders in Castle Rock.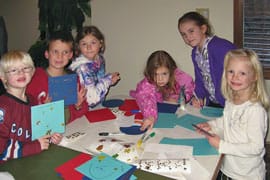 Children from Operation Bright Star work on creating handmade Thanksgiving cards to go inside the box of food delivered to each family.