Rock Canyon High School poms take the prize
December 1, 2010
/
/
Comments Off

on Rock Canyon High School poms take the prize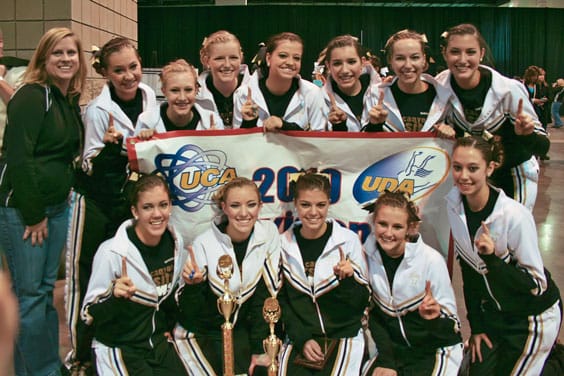 RCHS varsity pom team, UDA Champions (left to right) back row: Coach Alicia Heimerdinger, Kate Reisig, Amy Taylor, Kelsey Hofstetter, Alexis Todd, Ciara Stamper, Hannah Wilson, and Lauren Packer; front row: Ali Sunshine, Ivy Deibel (captain), Charity Sammons (captain), Sara Eldridge, and Sam Pusar.
Article by Kathy Dunker with photos courtesy of Vanessa Pusar
The Rock Canyon High School (RCHS) pom teams went through some serious competition last month. The RCHS poms program, consisting of varsity, junior varsity, and freshman teams, that perform pom, jazz, and hip hop routines not only at football and basketball games, but also in competitions at the league, regional, state, and national levels. November was competition month for the girls, and all three talented teams took first place at the USA Competition on November 6.
The varsity team, under Coache Alicia Heimerdinger and Christina Leone, made 4A state champions for the last two years running. The team was the proud champion at the UDA Regionals this year in November. They also placed third in jazz. The varsity team was national finalist at the UDA Nationals last February in Orlando, Florida, where they also placed sixteenth in both poms and jazz.
The varsity team will travel again to Orlando to compete on February 5 and 6 in 2011. In addition, they will compete in the 5A poms division on December 3 at the Denver Coliseum. As varsity pom team member Sam Pusar remarked, "We work hard to prepare for competition. It's great to perform and show spirit for our school."
The junior varsity team, under Coach Victoria Harris, won the JV Invitational for the past two years in a row and will compete at Arvada West High School on December 11. The junior varsity team took third place at the UDA Regionals on November 13. The freshman team, coached by Erin Markin, also took the UDA Championship title as the varsity team did.
The three pom teams enjoyed attending the UDA camp last June in preparation for their upcoming competitions. The girls spent four days and three nights at Regis University, taking dance classes and competing. The camp is in addition to their normal practice schedule of dance classes four times per week along with an additional dance class for their personal improvement.
The teams also enjoy their biggest fundraiser each year which is Jag clinics for younger girls. The teams teach the youngsters a dance that they get to perform at a football game in the fall or a basketball game in the winter. The next Jag clinic will be for middle school girls, sixtth to eighth grade, on December 14 at RCHS as part of their nationals trip fundraiser.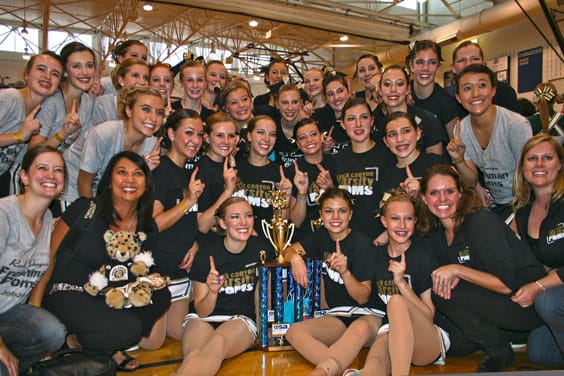 All three RCHS pom teams celebrating their wins at the UDA competition last month.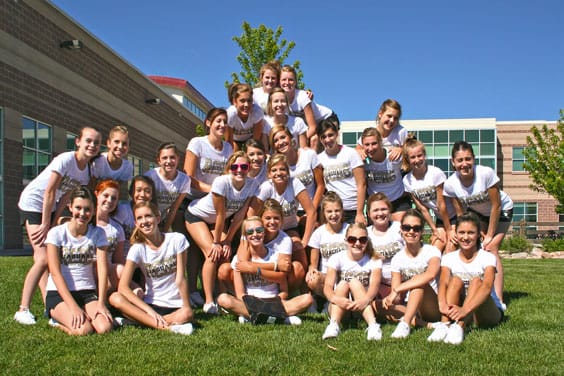 RCHS pom teams chillin' at the UDA camp at Regis University.