Owner of Local Restaurant Plays at Inaguration
February 1, 2009
/
/
Comments Off

on Owner of Local Restaurant Plays at Inaguration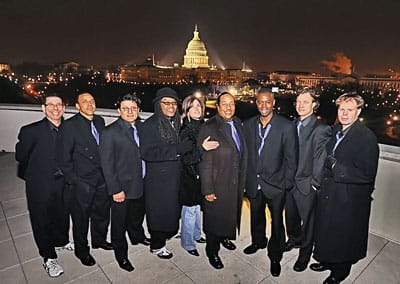 Arlen Felsen (pictured far left), owner of Arlen's American Bistro in Castle Pines North, was a part of the Presidential Inauguration celebration in Washington D.C. last month.

Felsen plays the drums in a nine-piece old school funk, rhythm and blues band called Jakarta. The national corporate band played in downtown Denver during the Democratic National Convention in November, and was invited to the nation's capital to play in honor of President Barack Obama for the Inauguration festivities on January 20.
"It was mind boggling to think of what was happening, and that I was there and a part of it," said Felsen about the gig. "It was amazing! Nothing like this will happen again in our lifetimes," he said. "This is not the largest, but certainly the most monumental event I've ever played."
When not traveling, Jakarta can occasionally be found playing at Little Bear in Evergreen. Visit www.thejakartaband.com for more details.