RCHS Cheer Team Wins State Championship
February 1, 2009
/
/
Comments Off

on RCHS Cheer Team Wins State Championship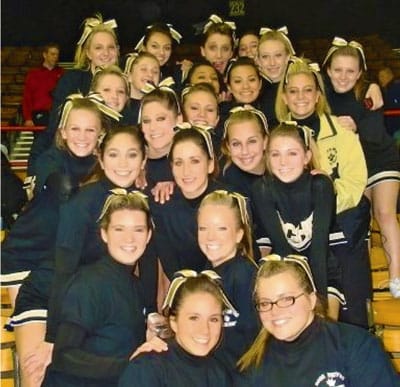 by Terri Wiebold; photo courtesy of Linda Clure
In Colorado, spirit is a sport. According to the Colorado High School Activities Association (CHSAA), it is the perfect balance of crowd leadership, support, entertainment, sportsmanship, athleticism and competitiveness.
Castle Pines' very own Rock Canyon High School Varsity Cheer Team received recognition as a "champion" in their sport by bringing home the State Championship first place trophy.
Twenty-three members of the varsity cheer team competed against more than 35 other class 4A schools at the 2008 State Spirit Team Competition held at the Denver Coliseum in December.
According to varsity coach Karen Bryan, the girls (ranging from Freshman to Seniors) practiced two hours a day and some Saturdays for four months. In addition, they supported their school by cheering at all varsity football, volleyball and soccer games.
"I was very proud of their accomplishment and hard work," said Bryan. "The fact that they came in first place rewards their dedication."
The routine was a mixture of cheer, dance and stunting, all choreographed to music. Castle Pines North resident and Rock Canyon Senior Kaitlyn Clure has been on the team for four years, and this is the first competition the team has won.
"At competition, we were all praying together, and when our name was called we were so excited," said Clure. "We pulled off the best routine we ever have, and our stunting was awesome! It was a really different routine…I think that is why the judges liked it," she said. "We knew in our hearts we'd done the best routine we had ever done, and the best we could ever do."
Although graduating this year, Clure said she would return to watch the team compete again next year.
For now, she is content to walk past the trophy case at school and see the trophy she and her teammates worked so hard to achieve.