Part-time job led to a lifelong career path
July 1, 2017
/
/
Comments Off

on Part-time job led to a lifelong career path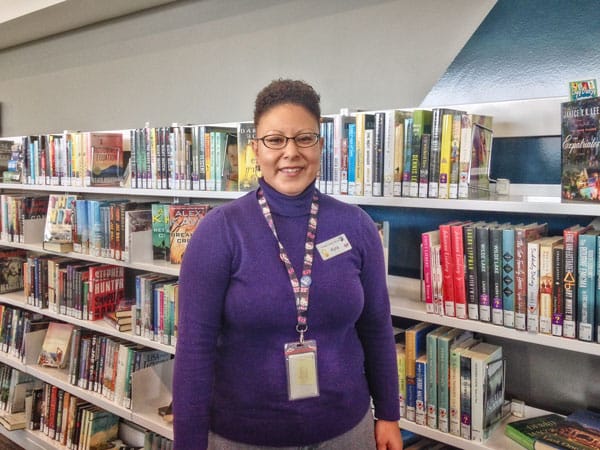 Librarian Kyra Hahn, lover of books and a very special place, at the Douglas County Libraries – Castle Pines.

Article and photo by Patte Smith
Entering the Douglas County library in Castle Pines is a treat. The welcoming staff greet everyone who walks in the door and they are always available to help patrons find a book, learn about searching on the computers, teach the "how-tos" for downloadable ebooks, audio and video, and the list goes on. The fact is they are friendly professionals who are passionate about their work, if you call it work being around books all day. (Sounds a bit like heaven to me.)
Librarian Kyra Hahn realized her "career calling" when she began working part-time at the Douglas County library in Louviers several years ago. "I knew after one month I wanted to be a librarian. I applied to the University of Denver to get a master's degree in library sciences." Working a full-time graveyard shift and a part-time job at the library, Hahn completed her degree.
"I started on the Bookmobile, also referred to as the 'little library that could.' It was a good experience but I have to say I am grateful for a breakroom and indoor plumbing," she laughed. "It was a unique experience." She was a librarian at the Douglas County community library that residents helped to organize and now she appreciates every day at the Douglas County Libraries – Castle Pines.
Hahn's enthusiasm for her job is infectious, and she is proud to be a part of the evolution of the Castle Pines branch and says it is "truly a community hub. Kids, tweens and teens are here a lot and think the library is a 'cool place' to be. I really like the light bright on the upstairs wall where the kids books are located. The whole library is one great place."
Asking her about her favorite books, Hahn did not have to stop and think. For nonfiction, she said "Rising Strong" by Brené Brown and for fiction "To Kill a Mockingbird" by Harper Lee.
Next time you are in the library, take advantage of the knowledgeable and pleasant staff who share their talents with our community and say hello to Kyra.