Perfect hamburgers for Father's Day
June 1, 2016
/
/
Comments Off

on Perfect hamburgers for Father's Day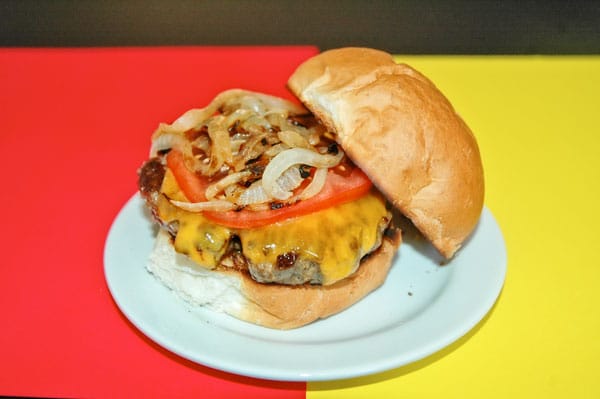 Article and photo by Lisa Crockett
My dad loved a good hamburger. When it was my dad's turn to cook dinner (which happened frequently when I was growing up) he would often step into the kitchen and whip up hamburgers for us all, sometimes cooked outdoors, and sometimes cooked on the stove, but always delicious. In addition to making the burgers thick and juicy, he did something special to the buns to make them crunch ever so slightly, providing a delicious contrast between the juicy burger and the crispy bun.
As an adult, my attempts to make a great burger have been fairly lackluster, and for years I've simply enjoyed burgers made by other people. But this Father's Day, in honor of my dad, I decided to finally crack the code and make a great burger in my own kitchen.
My burgers were often dry and tough, and they sometimes did this weird thing where a flat patty would somehow grow in the center, rendering it more of a meatball than a hamburger. Previous attempts to enhance my burgers and add moisture by adding ingredients to the meat resulted in burgers that were falling apart and more closely resembled meatloaf than a true burger.
In my quest for the perfect homemade hamburger, I've done several trial runs and have had the best results on the stovetop with a cast iron skillet. The heat from the cast iron forms a delicious "crust" on the meat as it cooks. In addition, ground beef for hamburgers shouldn't be too low in fat. Without fat, burgers will resemble a hockey puck and taste roughly the same. True purists apparently grind their own meat, and while I'm not saying I'll never do that, I'm certainly not ready for that step just yet. For my burgers I bought organic ground beef at Costco that was 80 percent lean, and it worked perfectly.
It's also important to remember that fat melts when it is warm, so meat that is handled too much will quickly get tough and unappealing. Meat should be formed into patties immediately after being taken from the fridge, and should be handled only enough to get it into the desired shape. I find that forming the patty on a cool countertop (on a piece of waxed paper) allows me to handle the meat very little but still get the shape and size I like.
To counteract "swelling" in the patty, make a small indentation with your fingers in the center of the patty. Then, season with salt and pepper (only salt and pepper!) just as the burgers are heading for the pan or the grill. Salting the meat and then letting it sit for more than a few minutes will draw the moisture out of the meat, making it dry. I love the flavor of cooked onion on a burger, but rather than put them into the patties, I simply sauté them and put them on top.
Hamburgers should be cooked on a very hot grill or pan, and if you're cooking on the stove, a tiny bit of butter or oil in the pan will insure your patty doesn't stick. While it's important to avoid overcooking the meat, ground beef should generally be cooked until it is well done, about 160 degrees (use a meat thermometer if you're not sure what well done looks and feels like.)
Finally, butter the buns and toast them in the pan or on the griddle for that satisfying, crispy crust. Then, top them as you desire and dig in. So satisfying, so delicious, so perfect for Father's Day or any day. My dad would have been proud.
Perfect Hamburgers
1 pound 80 percent lean ground beef
4 tablespoons butter
Salt and Pepper
Soft, white hamburger buns
Using a sharp knife, cut the meat into four equal portions (about four ounces each) and place each portion gently onto a square of wax paper. Using the bottom of a heavy glass, press the meat until it is about 3/4 of an inch thick and about four inches in diameter. Gently press the meat around the edges into a round shape and make a small indentation with your thumb at the center of the patty. Place the patties, still on their wax paper, in the fridge while your pan or grill heats up. If you're cooking on the stovetop, melt half of the butter in the pan on medium heat, then turn the heat up to high. Remove patties from the fridge and sprinkle liberally with salt and pepper. Cook on one side for about three minutes, then carefully flip and cook for another two or three minutes. While patties cook, butter the buns. When you remove the patties from the pan, put them on a serving plate and cover with another plate to keep them warm. Place the buns, butter side down, into the pan and toast for a minute or two until the surface of the buns is golden and a bit crisp.
Serve with desired toppings; serves four.