Pet adoption event pairs orphaned dogs and cats with happy new owners
November 1, 2011
/
/
Comments Off

on Pet adoption event pairs orphaned dogs and cats with happy new owners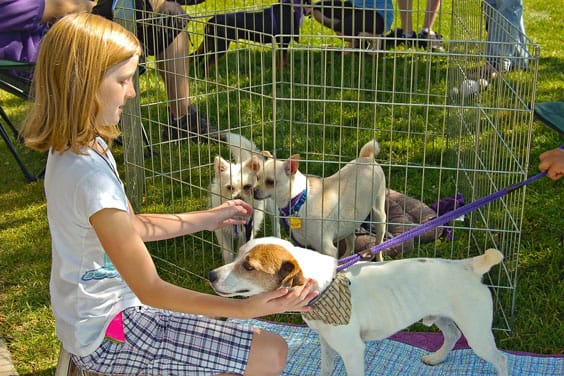 A puppy hoping for adoption, receives some loving attention. Over 400 people attended the adoption event.
Article and photos by Amy Shanahan
Thirty orphaned dogs and cats found new loving homes at the 3rd annual adopt-a-thon sponsored by the Petsense store in the Castle Rock Outlet mall October 1st and 2nd. The "Forever Home 2011" adoption event was a success with more than 400 people attending the event and 28 dogs and 2 cats finding new homes. This event was held at all 50 Petsense stores across the nation and, in total, 735 pets were adopted over the weekend.
The adoption event took place outside the Petsense store and featured 10 adoption agencies including the Denver Dumb Friends League, Best Friends, National Puppy Mill, Mile High German Shorthair, Big Dogs and Huge Paws. 4-H was also in attendance selling baked goods, and there were demonstrations throughout the weekend by the Douglas County K-9 unit. It was well attended by local residents looking to adopt new pets, and by families and children who simply enjoyed spending time holding and playing with available dogs and cats.
Those who did adopt were thrilled to receive a new family pet, as well as a pet tote bag filled with pet gifts and supplies. The Petsense store in Castle Rock features animal adoptions most weekends throughout the year. Petsense is located at 5050 Factory Shops Blvd, Suite 855 in Castle Rock. Contact Bob Vine at 303-814-0801 for more information about adopting orphaned pets.