Pine Ridge resident takes the test of endurance for a personal cause
June 1, 2016
/
/
Comments Off

on Pine Ridge resident takes the test of endurance for a personal cause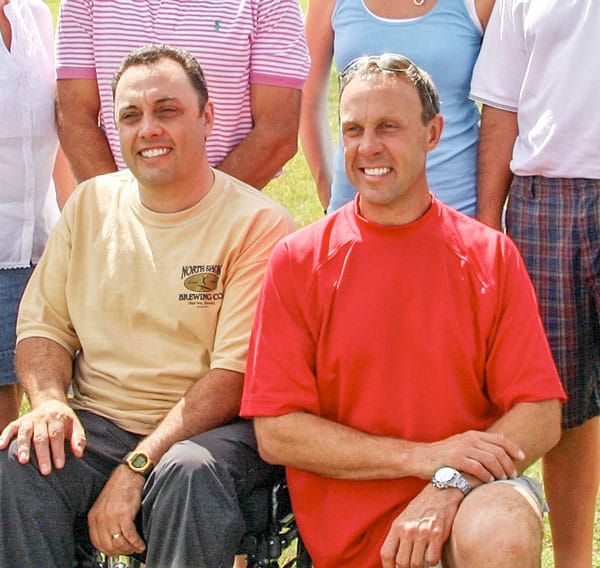 Billy D Driber (left) and younger brother Gary Driber (right) were rarely photographed alone together except at the many Super Bowls they attended. They are pictured here with a group of relatives in New Jersey.

By Kathy Fallert; photos courtesy of Gary Driber
William Driber, also known as "Billy D", lived a good life. He was an Emmy award-winning cinematographer with NFL Films, a kind and caring family man, and a loyal friend. Driber's life, however, was cut way too short by spinal cancer leaving his younger brother, Pine Ridge resident Gary Driber, wondering how he could preserve his brother's legacy.
Prior to his brother's death, Gary had the opportunity to join Billy D for 13 Super Bowls, where the two would enjoy weekends of brotherly bonding. Billy D filmed and Gary assisted up close enough to see John Elway's helicopter dive for a touchdown right in front of him during Super Bowl XXXII. In February 2015, the NFL hosted a memorial service for Billy D. He had been a beloved camera man, and eventually an executive at NFL Films for 28 years. NFL Commissioner Roger Goodell, Tony Ross and Gary Driber were a few of the speakers at the service.
Gary commented, "It was at that memorial when I started thinking about how I could give back and preserve Billy D's legacy. Even before my brother was in a wheelchair, he started supporting The Michael Ross Foundation (MRF), a foundation aimed toward helping children with disabilities by providing wheelchairs, braces, crutches, etc. to those in need.
To honor Billy D and his wife Sherry and their legacy of giving back, Gary and his girlfriend Neale Orinick are racing the Boulder 70.3 on June 11. "Neale and I are undertaking this personal test of endurance to recognize Billy's relentless will to live life to the fullest despite the physical challenges he faced every day. Our goal is to raise $7,030 – a hundred dollars for every mile we race to benefit The Michael Ross Foundation – Billy's favorite charity," said Gary.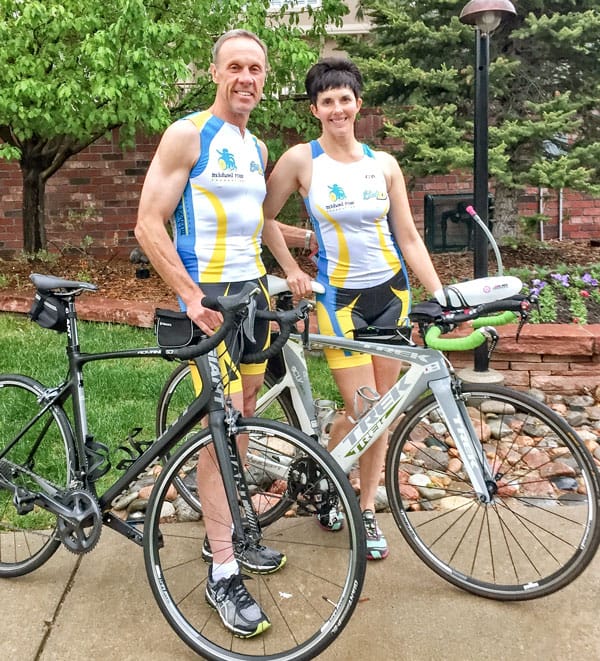 Gary Driber and his girlfriend and training partner Neale Orinick have challenged themselves to a half Iron Man in Boulder on June 11 to honor Driber's late brother Billy D Driber.

The Boulder 70.3 is a half Iron Man consisting of a 1.2-mile swim in the Boulder Reservoir, a 56-mile bike ride, and a 13.1-mile run. Driber remarked, "My brother would say, 'What are you crazy, I don't even like to drive 70.3 miles!' Trust me I can hear him in my ear during each training exercise, but like he always used to say 'It's for the kids,' and Neale and I don't lack the ambition and drive to get this done. We would like to give back through this endurance event to people who have their own endurance events not of their choosing."
With $2,500 raised so far, Gary has been amazed by the support he has received. All proceeds go directly to MRF. Driber and Orinick had training clothes made up themselves and cover all of their racing expenses out of pocket. The two train together for one-to-two hours per day, six days per week. Gary, who used to run three miles twice per week for stress relief has seriously stepped up his game and can often be seen biking up Monarch or running along Castle Pines Parkway.
Gary reflected, "The challenges my brother faced each and every day were so much more than any of us could imagine. It can't be said enough, he never complained, he just did what he had to do, and just kept going. My brother passed away at 53 years of age from the rare cancer found on his spine. When he was initially diagnosed, he was given four to five years to live, but because of some expert doctors and a never quit, never give up attitude, he fought for almost 20 years."
To learn more about the MRF, visit MichaelRossFoundation.com. To offer any donation large or small to Driber and Orinick, visit www.gofundme.com/OurIronmanBillyD.