Pride and teamwork get noticed at Rocky Heights
June 1, 2016
/
/
Comments Off

on Pride and teamwork get noticed at Rocky Heights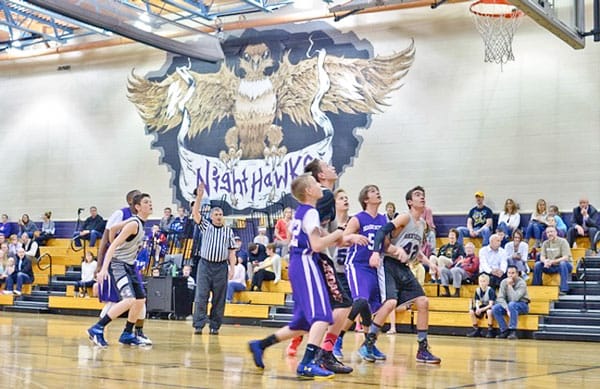 The seventh grade boys basketball teams at RHMS dominated the season by going undefeated and winning the district championship. Congratulations to these boys for all of their hard work and for setting a new record in Douglas County!

By RHMS eighth grade student Jack Hibbett; photo courtesy of RHMS yearbook student Lexi Hershberger
Throughout the year, there has been one thing on the minds of many seventh and eighth grade boys at Rocky Heights Middle School (RHMS) … basketball. Basketball has long been a tradition at RHMS, and the school has had a lot of success in this sport. This year was no different as both of the teams did extremely well throughout the course of their season. The teams reached new heights in the sport and now rank as one of the most successful classes that RHMS has ever had for basketball.
First came eighth grade basketball which started in December. Eighth grade player and Castle Pines resident Andrew Newman stated, "Eighth grade basketball was very successful because of the whole experience. With all the different levels of teams, it was easy to be super competitive if you were more experienced, or just have fun and meet new people if you were on a lower level." These players took to the court with confidence and pride and represented RHMS with class. All three levels A, B and C had very impressive seasons and ended the season with a long list of achievements. The A team went to the championship, B team went undefeated, and C team realized that their hardest competition was here at RHMS.
In March, the seventh grade teams took to the court. After seeing the eighth grade students do so well, they knew they would have to have an amazing season to beat them. Well, there is nothing more outstanding than an all-around undefeated season and that is exactly what they achieved. All A, B and C teams never lost a single game! This is an achievement of great magnitude and is something that no RHMS basketball team has ever done before. Seventh grade student and Castle Pines resident Ty Hall mentioned, "We liked to spread the ball around and that allowed us to score lots of three pointers." The seventh grade A team finished the season by winning the district championship.
None of this would have been possible without RHMS' outstanding coaches. They took extra time out of their busy schedules every day to help student athletes learn, progress, and grow with the short time they had together. In addition, all of the coaches could not have been more proud of their teams and how much hard work they put in to make this season great. Coach Mike Knoebel said, "What I loved about both teams was that they were great at teamwork and were constantly improving." The coaches' effort did not go unnoticed. Eighth grade player Nate Calhoon stated, "Basketball was made successful because the coaches and players were able to connect to create a great team atmosphere."
RHMS basketball had another groundbreaking season and remains one of the elite Douglas County teams. Basketball continues to be a prestigious tradition at RHMS and will continue to be for years to come.